The Windows OS has a very handy feature that allows you to roll back the system to a previous state, if necessary. Usually, it is used in case of problems with the OS functioning, such as Windows registry corruption, operating system freezing, etc. As practice shows, this tool is used very often, because it is easy to use and allows you to solve many problems. In this article, we will look at how to recover files after system restoration.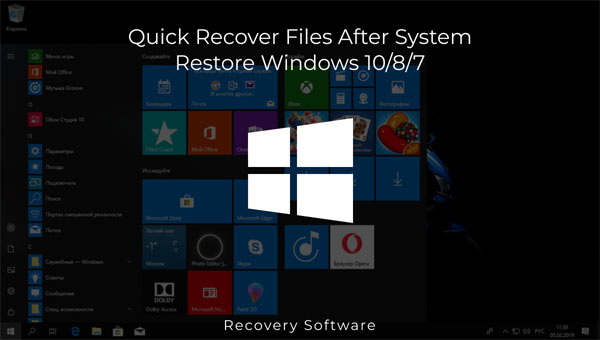 Contents
What happens when system is restored using System Restore?
When a user notices a big slowdown in Windows – he immediately asks himself: "What can I do to get back to the previous performance speed and do I need to reinstall the operating system or there is another way? After that, he usually searches the internet for a solution and if one cannot be found – users most often choose the system restore function to get everything back as "as it was before". However, despite the seeming simplicity of such a solution, there are a few things to consider.
Firstly, if you use Windows Restore Point, you should note that any programs that were installed after the date when the restore point was created will be deleted.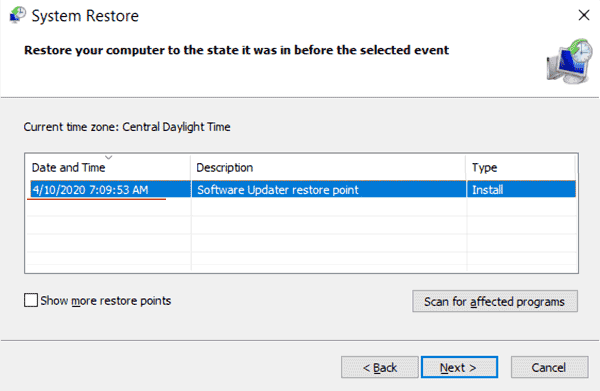 Accordingly, if any of these applications stored important information – it will be lost. For example, if you use different kinds of photo managers, you can lose your data, since usually such programs can store photos both in the user's directories and in their directories.
For example, the ACDSee manager can import photos into its directories (it all depends on how the application is set up), and if the installation date of that photo manager is later than the system restore point date, you will lose all the photos that were stored in the application folders.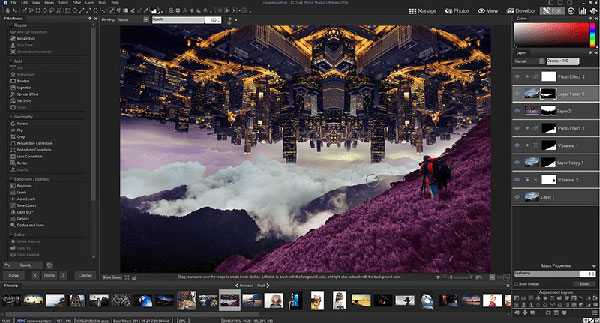 Secondly – when the operating system creates a restore point, it only copies the operating system settings, some drivers (which will be needed in the future for some devices to work correctly), and a copy of the Windows registry is made.
Personal user data such as photos, music, documents, tables, presentations, etc. are unfortunately not saved. Therefore, if you have lost a file important to you – trying to recover it using the system restore function makes no sense. Read about how to recover lost data in the last paragraph of this article.
The specifics of working with the "System Restore" feature are described in detail in the article "Windows Restore Points"
It's also worth noting that the recovery function does not always work correctly and sometimes the user cannot restore the operating system to a working state. Consequently, the data loss on the C:\ drive is almost guaranteed.
Why does System Restore not always work correctly?
Very often users complain that the "System Restore" feature does not work as it should. This happens most often after an automatic system update. The user begins to see severe lags or a blue screen of death and the system restore often fails or Windows just cannot find the restore point, although everything was working fine before. It is not uncommon that the system cannot be recovered even using the Windows Recovery Environment.
Why does this happen?
Firstly, often after installing a software update package, the "System Restore" utility disables the system protection feature due to new configurations. In this case, the restore points will not be created automatically.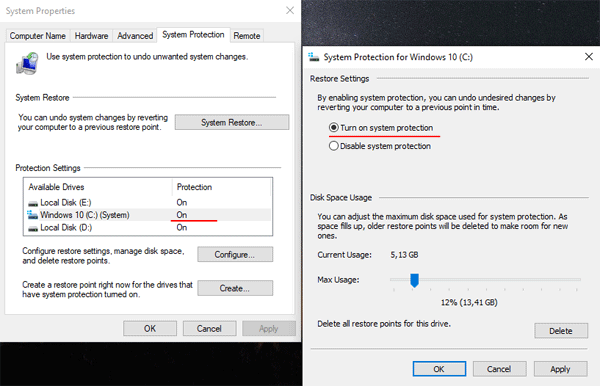 As practice shows, this happens quite often, though not always. Therefore it is recommended that after each operating system update you check if the system protection is enabled so that you do not have problems in the future.
Secondly, it is recommended to regularly check the free space on the local disks (as restore points are created for each partition separately), so that the system can save the created restore point. If there is not enough free space — free it up. Clearing up disk space on the system disc is a little more complicated than on other discs. Read the article "8 Ways to Free Up Hard Disk Drive Space" to learn how to do that.
If you have already cleaned up the disk space on the system partition, but there is still not enough space – you can increase the system disk space at the expense of the other local disk. To learn how to do this, see the article "How to increase the size of the "C" drive at the expense of the "D" drive, without losing data".
One more thing to consider is the health of your hard disk or SSD disk. It is a very important issue since often the drive can be in bad condition (bad sectors, etc.) and the user may not even be aware of it – consequently, the restore points may be corrupted. If the restore point is corrupted, the System Restore feature either cannot find it at all, or it will either show that the restore point is corrupted, or (worst of all) it will start the system restore process, but at some point, an error will occur and the user will get a non-working operating system. Therefore, it is recommended to periodically check the health of your drives and fix any errors found. You can read about how to do it in the article "How to check and fix hard disk errors".
It is also worth noting that sometimes the "System Restore" function cannot find a restore point just because it has not been created for one of the above-mentioned reasons. Therefore, even if you bought a new computer or installed an operating clean system – it is recommended to check all the above recommendations to avoid data loss in the future.
It should be mentioned that to ensure maximum security it is recommended to use the official version of the operating system only, as many pirate builds have spyware and malware inside them, and the system recovery function may not work or be absent altogether.
If everything is set up correctly, but "System Restore" still does not work correctly check the following points:
1) Whether the antivirus is blocking system restore. To do this, boot the operating system in Safe Mode and try to use the System Restore feature again. The ways to boot and use Safe Mode are described in detail in the article "How to boot Windows in Safe Mode?"
2) Whether the firewall is blocking the "System Restore" function. If so, you will see an error "0x800700b7"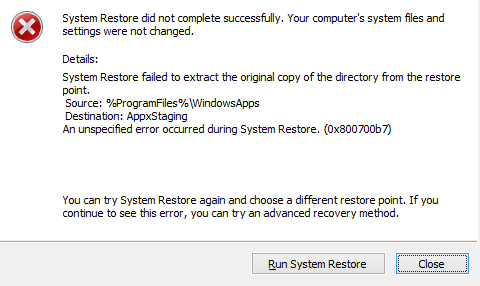 In this case, you need to clean the registry cache. To do this you should:
Step 1: Press the "Win+R" key shortcut. In the window that opens, type the command "regedit" and press the "Enter" key.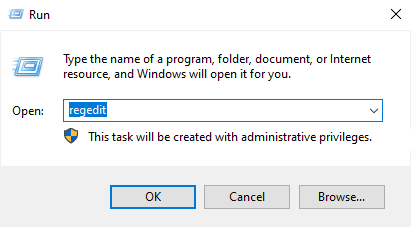 Step 2: The registry editor will open in front of you. Go to HKEY_LOCAL_MACHINE -> SOFTWARE -> Microsoft -> Windows NT -> CurrentVersion -> Schedule and right-click on the "TaskCache" folder. Select "Export" and choose your desktop as the save location. This file will be your backup if something goes wrong.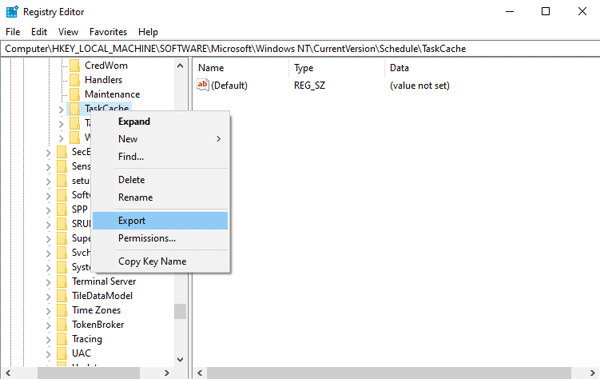 Step 3: Now delete the key HKEY_LOCAL_MACHINE\SOFTWARE\Microsoft\Windows\NT\CurrentVersion\Schedule\TaskCache\Tree\Microsoft\Windows and reboot your computer.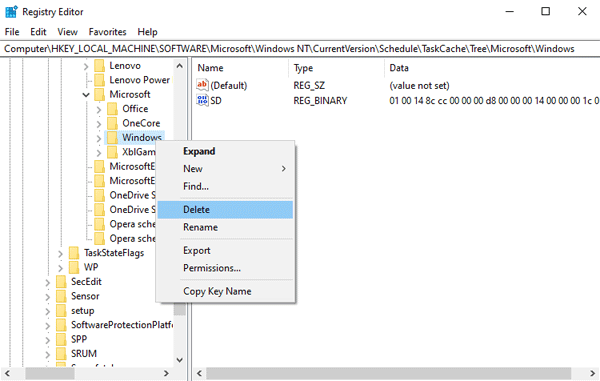 After performing these simple steps, the error should disappear and System Restore should work normally.
Does System Restore help to remove viruses from my computer?
The overall performance of an operating system is often severely degraded by viruses and spyware. It is explained by the fact that, in addition to tracking and sharing user personal data with attackers, viruses often modify or delete system files, which causes the system to slow down a lot, many functions stop working, and sometimes user personal files even disappear.
Usually, an antivirus helps in such a situation, however many users rely only on the built-in Windows Defender, neglecting additional protection tools, and after Windows starts to lag, try to solve the problem with a restore point.
It is worth saying here that this only works partially. Firstly, a lot depends on when exactly the system restore point was created. That is, if the restore point was created before the virus hit the system, then in theory system restore should help.
In practice, however, this is not the case. It all depends on exactly which files the virus infected. For example, it is not uncommon that among the infected files are also restore point files, although they are initially protected by the system from editing. As a result, the user seems to have restored the system using the safe mode or the Windows recovery environment, but in fact, everything remains as it was.
In addition, there are kinds of viruses that, even after partially removing them, can self-repair using the Internet for this purpose.
Therefore, we strongly recommend that you use high-quality antivirus and constantly update it. In addition, we recommend checking your computer at least once a week to protect personal data from deletion and possibly falling into the hands of third parties. You can read more details in the article "How to check your computer for viruses?".
How to recover data quickly after Windows 10/8/7 system restoration?
If you have restored your computer to its previous state and find that important information has disappeared for some reason, do not panic. There is a way to quickly recover lost data. Use the RS Partition Recovery program for this purpose. This method is very convenient and allows the user to avoid any unnecessary manipulations. In addition, this method is recommended if you had to restore the operating system after a regular update, and you found that all files from the desktop disappeared.
RS Partition Recovery is very handy and easy to use, and its advanced recovery algorithms make the process very fast. In addition, the program does not demand computer resources, which allows you to use it on almost any laptop or PC.
To recover your files quickly, follow a few simple steps:
Step 1. Install and launch the RS Partition Recovery.

Step 2. Select the drive or partition from which you want to recover data.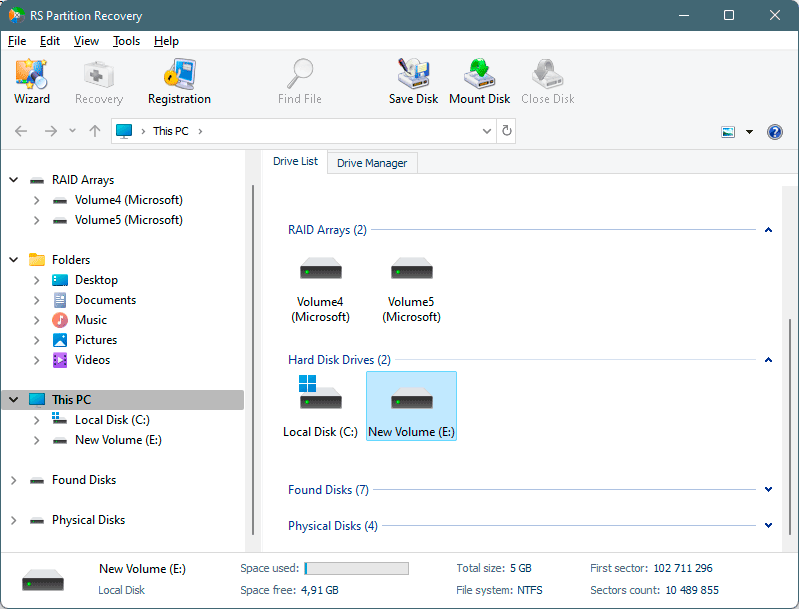 Step 3. Choose the type of analysis.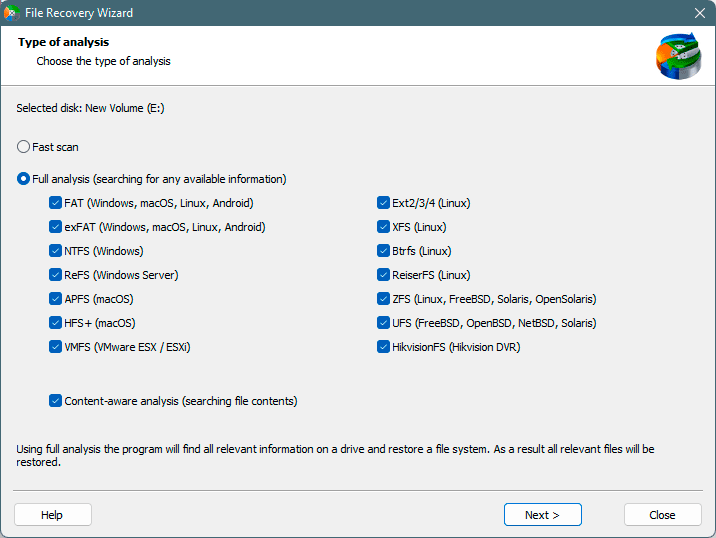 Fast scan you should use in case the file was lost recently. The program will scan the drive quickly and show the files available for recovery.
The Full analysis function allows you to find lost data, after formatting, disc resizing, or file structure corruption (RAW).
Step 4. Preview and select the files to recover it.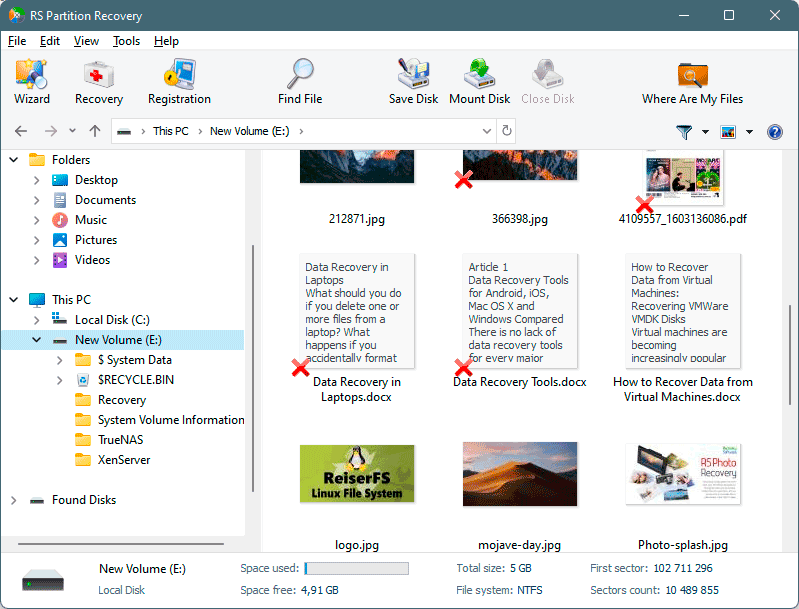 Step 5. Add the files you want to save to the "Restore list" or select the entire partition and click Recovery.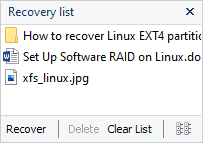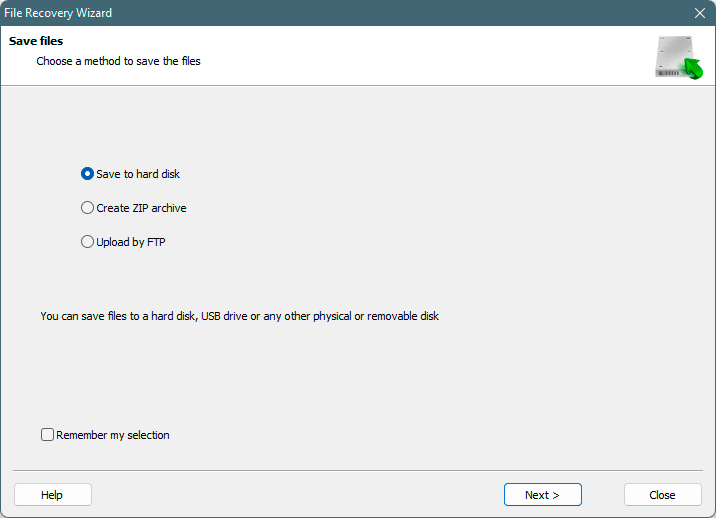 It should be noted that it is best to save the recovered file to an external hard drive or USB flash drive.
As you can see, the file recovery process is incredibly simple and fast. It is perfect for those who do not want to waste their personal time on unnecessary manipulations with the command prompt, system utilities, etc.
Frequently Asked Questions