Lost data stored on a multi-disk array? Failed RAID controller? Unrecoverable errors on one or several hard drives? RS RAID Retrieve helps repairing a wide range of RAID arrays by connecting the disks directly to your computer and recovering data from RAID 0, RAID 1, RAID 4, RAID 5, RAID 6 and many types of exotic multi-disk arrays.
RS Raid Retrieve 2.6New update
Data stored on a broken NAS unit or RAID array with a failed controller can be difficult to recover – but not if you use RS RAID Retrieve! The tool can automatically repair many types of RAID arrays, allowing to recover files and folders from multi-disk volumes without the original RAID controller.
Try For Free
Buy Now
Whether your disks were installed in a NAS unit, in a computer with a hardware RAID controller, or managed with mdadm in a Linux box, RS RAID Retrieve can reassemble and repair the storage spaces and recover your files and folders in just a few clicks.
Automatic RAID detection
In full auto mode, RS RAID Retrieve will scan all connected media when launched. The essential configuration parameters of the RAID array will be detected automatically. By the time you see the main window, the tool will display all recognized multi-disk configurations and storage spaces, allowing you to start repairing the RAID or recovering files and folders.

Advanced Manual Mode
Advanced users will enjoy the ability to specify all or some parameters of the RAID array manually. You can fill in just those parameters you are absolutely sure about (such as the number of disks and the type of the array), while RS RAID Retrieve will automatically detect the rest of the parameters.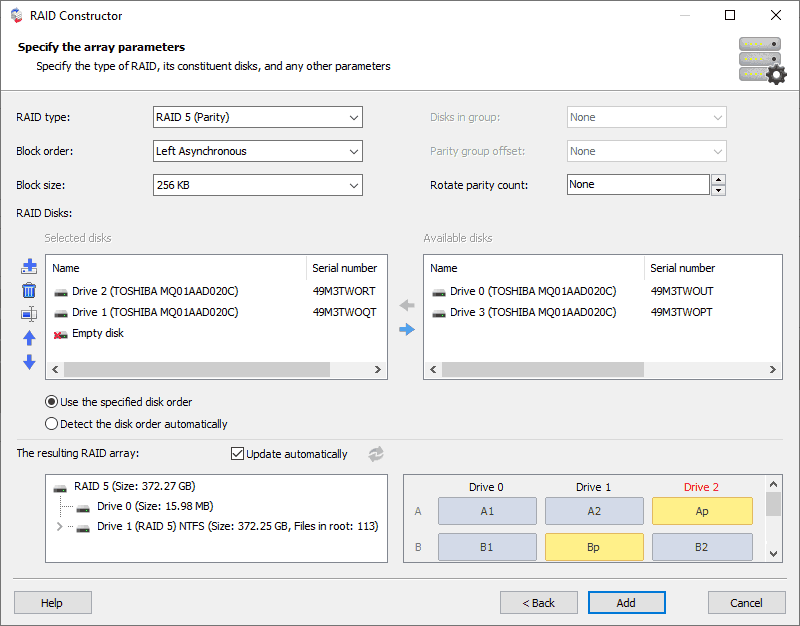 RAID, mdadm, RaidZ and Storage Spaces
RS RAID Retrieve supports many types of RAID arrays managed with dedicated controllers, Linux mdadm and Windows Storage Spaces. The tool recognizes RAID 0, RAID 1, RAID 4, RAID 5, and RAID 6 arrays including some rarely used configurations (RAID 1E, RAID 5E, RAID 5EE) and composite arrays (RAID 01, RAID 10, RAID 50, RAID 60). Single-disk volumes and JBOD arrays are also supported.
Data recovery from virtual machines (Virtual Machines, VM)
Using the RS RAID Retrieve allows you to recover data from a virtual machine such as VMware Workstation, VMware vSphere, VMware ESXi, Parallels Hypervisor, QEMU, ORACLE VirtualBox, Microsoft Hyper-V, Linux KVM, Citrix XenServer, Proxmox Virtual Environment.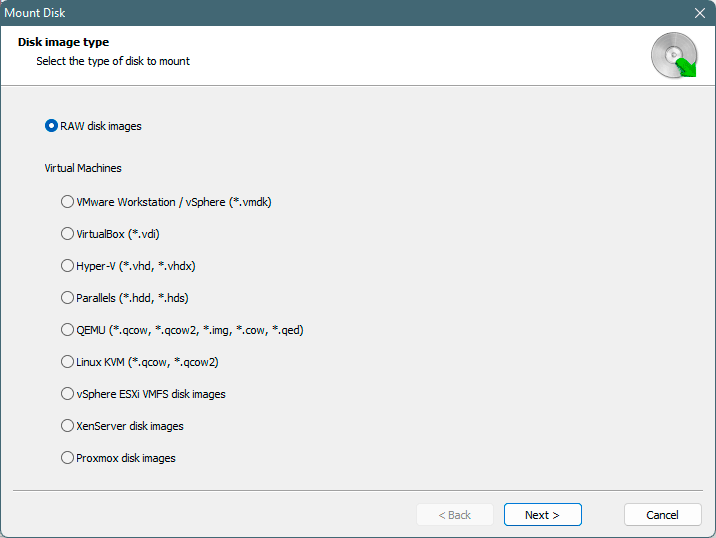 Retrieves Data from Degraded RAID Arrays
RS RAID Retrieve prioritizes your data against anything else. While out-of-the-box NAS devices will try to repair the degraded array, often causing yet another disk to fail, RS RAID Retrieve will try to recover your data instead. No lengthy RAID rebuilds and no resilvering, just straight off data recovery.
Recover Data from Corrupted Volumes
Storage space corruption is just as likely as a RAID failure. A perfectly healthy multi-disk array may hold a corrupted logical volume. RS RAID Retrieve can automatically repair corrupted volumes spanned across multiple disks, repairing partition tables and file system structures if necessary to allow you safely extracting the original files and folders.
RAID and NAS Devices
There are more NAS devices than personal computers with multiple disk arrays, and RS RAID Retrieve certainly takes that fact into account. If your hard drives were used in a NAS box manufactured by Synology, QNAP, ASUSTOR, Western Digital, Thecus, TerraMaster, Buffalo or one of the other popular makers, RS RAID Retrieve can automatically detect, reassemble and repair the storage spaces, mount logical disk volumes and recover your data. Simply attach the hard drives directly to your computer and let RS RAID Retrieve do its job!
Fault Tolerance and Beyond
Several types of multi-disk arrays use striping and checksums to ensure data integrity even if a certain number of disks fail. A RAID 5 array can tolerate a single disk failure without losing a bit of your data. A RAID 6 can lose up to two disks and still hold all the data intact. RS RAID Retrieve will mount degraded RAID arrays and recover the files and folders.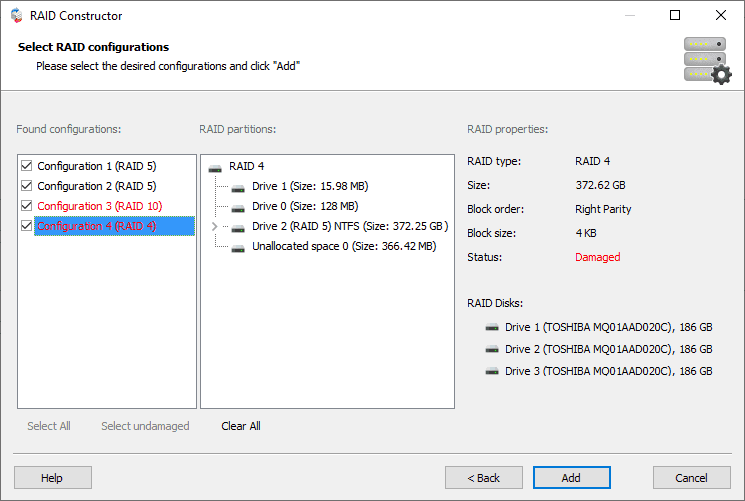 But what if the number of failed hard drives exceeds the fault tolerance threshold? If this happens, your NAS or RAID controller will fail to mount the storage space, effectively locking you out. RS RAID Retrieve will perform complex math to attempt partial data recovery from such arrays. How much is recoverable and whether the recovery is at all possible will depend on the original RAID configuration, the number of failed hard drives and several other parameters such as stipe size.
Disks with Bad Blocks
A single bad block may throw an otherwise healthy hard drive out of the array, causing subsequent rebuild attempts to fail. RS RAID Retrieve is designed to work around bad blocks graciously, recovering everything that's still recoverable and only skipping the bits in the bad blocks.
Supported File Systems
Each OS supports a few native and maybe a few non-native file systems, but no single OS supports more than just a few. RS RAID Retrieve does!
The tool recognizes file systems used:
in macOS: APFS, HFS +
in Unix-like operating systems: UFS 1/2
Built-in and Dedicated RAID Controllers
RS RAID Retrieve supports a wide range of dedicated RAID controllers manufactured by HP, Dell, Adaptec and many others, including server models. In addition, the tool supports multi-disk configurations maintained by the RAID controllers built into most Intel motherboards. Please note that you will need to temporarily disable the built-in RAID controller in your computer's BIOS when using RS RAID Retrieve to repair the array.
Features at a Glance
Automatically detects and reassembles multi-disk volumes;
Detects and rebuilds corrupted RAID arrays created in Windows, Linux and NAS devices;
Supports RAID 0, RAID 1, RAID 4, RAID 5, and RAID 6;
Supports RAID 1E, RAID 5E, RAID 5EE and composite arrays such as RAID 01, RAID 10, RAID 50, and RAID 60;
Mounts multi-disk storage spaces even if the original RAID controller is unavailable;
Recovers files and folders from healthy and corrupted multi-disk arrays;
Recognizes most common file systems including NTFS, ReFS, FAT, exFAT, APFS, HFS+, Ext2/3/4, XFS, ReiserFS, Btrfs, Zfs and UFS 1/2;
Automatically detects disk order and RAID parameters;
Advanced manual mode offers fully manual or semi-automatic operation;
Partial data recovery from RAID 5 and RAID 6 arrays crashed beyond fault tolerance threshold;
Recovers data from single-disk volumes and JBOD arrays;
Avoids array rebuild and resilvering for mirrored and checksum arrays;
What's New?
14 July 2023
Improved algorithm for detecting remote raid arrays
Expanded the list of supported RAID controller models from LSI Logic, 3ware, and Dawicontrol.
Addressed an issue related to reading the MBR table when a significant number of logical partitions are present.
The file preview error for the ReFS file system has been fixed
Implemented support for LVM Thin Provisioning with "Tier Thin Pool."
Enhanced the XFS file system to support large files and sparse files
View History Updates
Frequently Asked Questions