To find out how the user spends his time on the Internet, which sites he is interested in, whether he visits resources with questionable content, whether he actively uses accounts in social media networks – now it is possible (even if he skillfully covers all traces of his online activity)!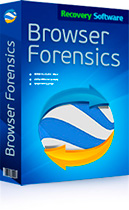 Using the program
RS Browser Forensics 3.6
You can easily recover and analyze the remote history of browsers, learn all about user activity under different accounts, recover passwords, correspondence, documents used in the browser.
Download
Buy Now
Recover visiting history, passwords, correspondence…
RS Browser Forensics is a convenient and affordable program, that will not only help you recover the history of visited pages, bookmarks, passwords and downloads list after clearing the history, usage of the "Incognito" mode, reinstalling the browser, but also perform a complete analysis of online user activity.
Control child's online behavior, search for digital evidence in forensic practice, simple recovery of passwords and bookmarks lost due to user's reckless actions or computer problems – any such problems can be solved in a few clicks with RS Browser Forensics. Thanks to a clear interface, every user will quickly learn how to work with the application.
Data recovery and activity analysis
Agree – even if we usually use the Internet for daily work, watching innocuous videos on Youtube and reading information resources, everyone still has something to hide about their online life. Even after deleting your browser history or clearing your correspondence, "unwanted" or "top secret" data does not disappear without a trace. RS Browser Forensic will analyze the tiniest data remains on the device under study and restore the erased browser history in its entirety.
You will see which sites and pages were viewed by the user (even after clearing the browser history of Mozilla, Opera, Google Chrome, Safari, Yandex, Rambler, etc.) and how much time he spent on each resource;
You can read the correspondence of the user in social networks, Email;
Restore passwords, form autocomplete data, bookmarks, download history.
How do you do that?
To start working and restore the necessary data, just run RS Browser Forensics and click "System Analysis". Then select the account of the user whose online activity you are interested in, and in the next window, click on the icon of the desired browser. You will be able to view all available information about the user's activity in this browser by selecting one of the sections on the left.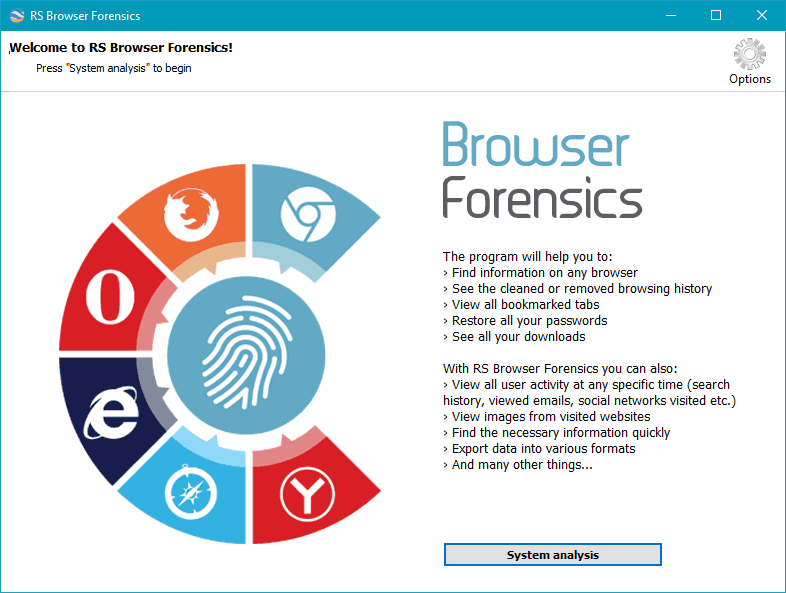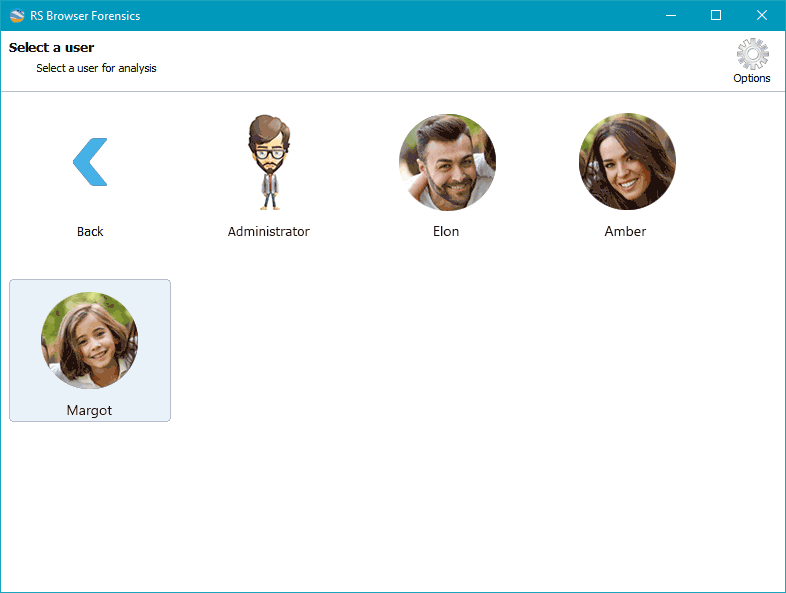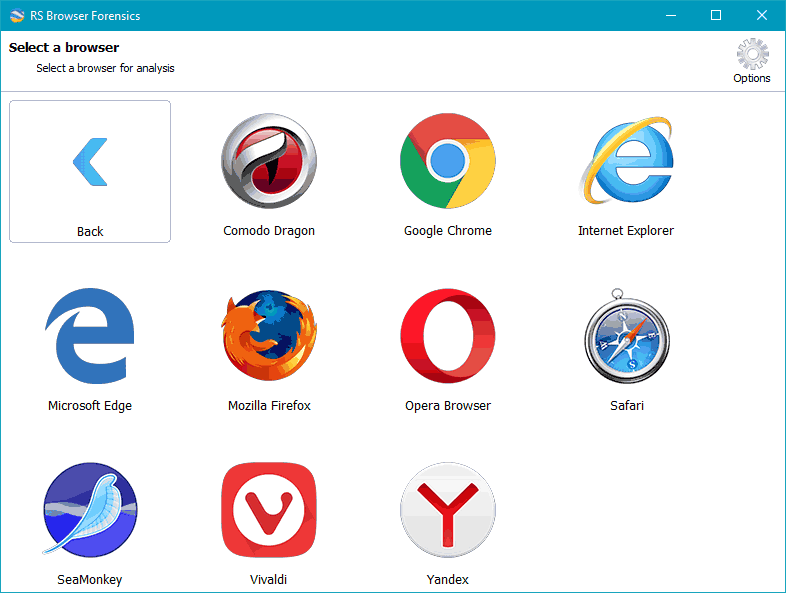 Activity in detail
The "History" tab will display all web pages previously visited by the user. Here you will find information about individual resource visits and page and link clicks. The different sections include search history data and information about activity on social networks Facebook, Instagram, Twitter, and others. To find specific information of interest, you do not need to study the entire history of browser use thoroughly… Just select the desired section: "Visits", "Search" or "Social Networks" – to see only the information you currently need. In each case, you'll see the date and time you visited the pages.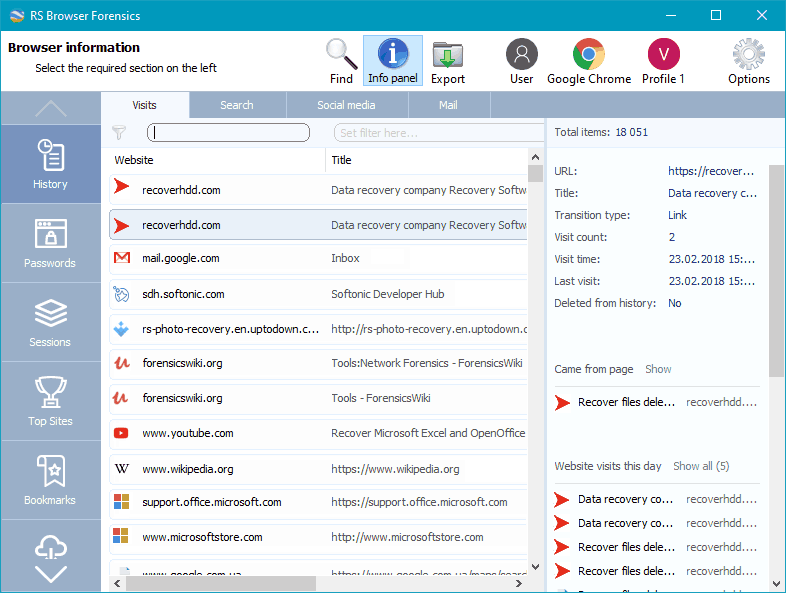 We remind you that all information can be recovered even after using "Incognito" or "Private View" mode, deleting files from the browser, reinstalling it, formatting the hard drive.
Data with a star
After scanning the system, RS Browser Forensics will display bookmarks created on both the computer and mobile phone. The information will be presented as a directory tree. The download history is displayed in a separate section. Here you will see the address of the resource from which the file was downloaded, the time of work with the file, and data about the file location on your hard drive.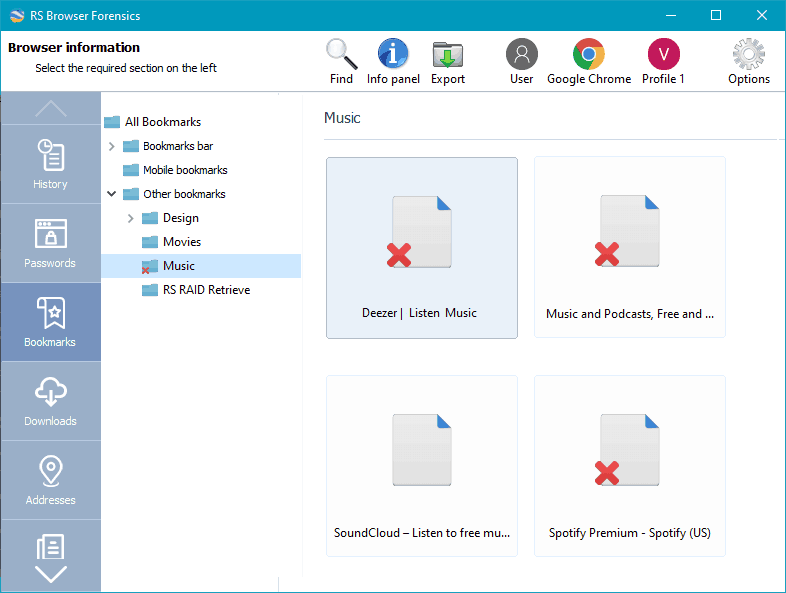 Restore passwords
Most modern browsers can remember the logins and passwords used by the user to access accounts at various sites. RS Browser Forensic restores access to this data in any account and, as a result, returns access to email messages, social networking communications, all data stored in Google and Facebook accounts, including geolocation data, contacts, search history. For information about the logins and passwords you use, see the "Passwords" tab.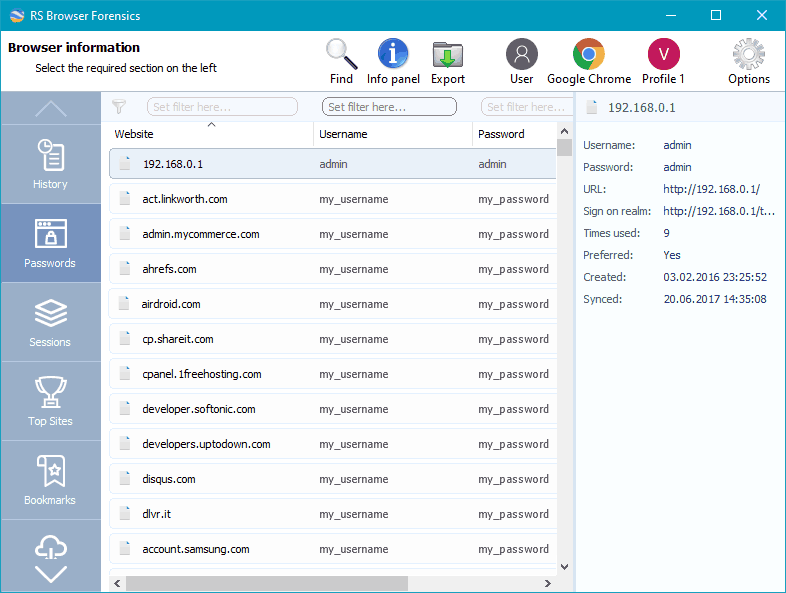 Access to documents
In the "Images" and "Files" tabs, you will find information about the user's work with any documents viewed in and downloaded from your browser. A preview of the content of files is available. Even if data has been deleted, you will be able to save the necessary files to your hard drive.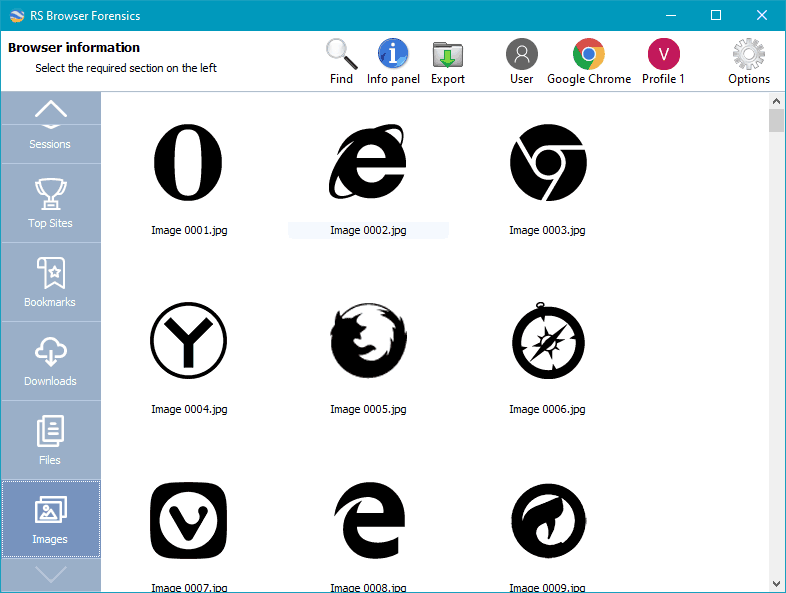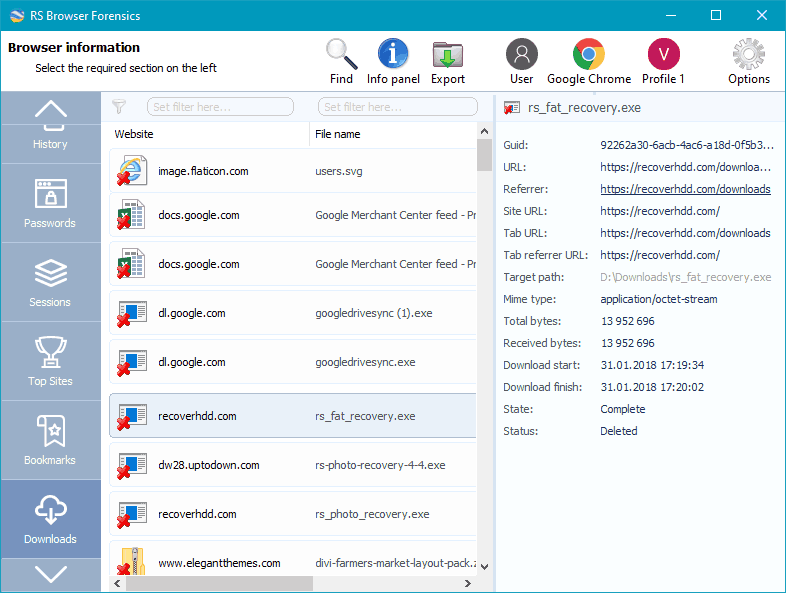 Sessions and their analysis
The "Sessions" tab displays information collected from system resources about the history of visited sites and individual pages with their names, links, date of visit, number of visits and time spent on each online resource. You can set filters and sort the results of your analysis yourself for ease of use.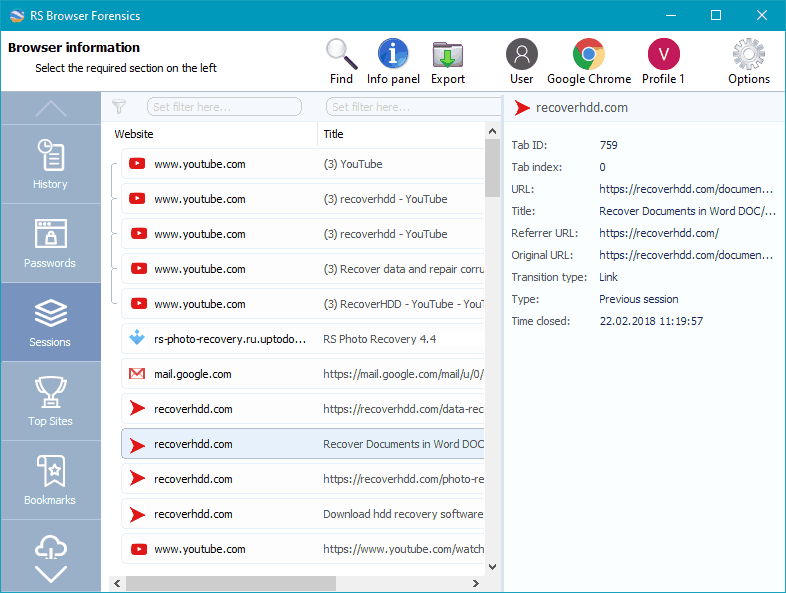 Master of Export
You can save the data you need in one of the following formats: PDF, Excel, or HTML. Just click on "Export", save the report on the desired items, and import the data into other systems.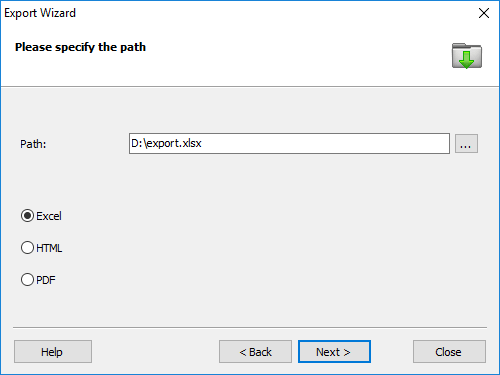 Compatibility and work with browsers
You can download and try RS Browser Forensics for free. The product is compatible with 32 and 64-bit Windows 7, 8 and 10 as well as Windows XP, Vista, NT, 2003 and 2008 Server.