Recovering information from formatted disks, USB flash drives and memory cards requires careful choice of a data recovery tool. Using tools designed to solve a different task may give unpredictable results. In this article, we'll explain the differences between various data recovery tool in the context of fixing data from a formatted drive.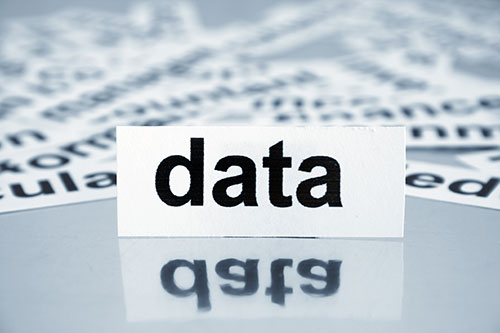 Unformat
The first thing (and the first in series of costly mistakes) many computer users do when they format their disk by an accident is finding, installing and using an "unformat" tool. There is a huge supply of those on the market; some are commercial and some are freeware. What these tools do is an attempt to reconstruct, rebuild or otherwise re-create the original, pre-format state of the disk by restoring the file system.
While this may sound as a valid approach to the inexperienced, there could be no bigger mistake. Formatting the disk empties the original file system by overwriting at least some part of it (usually, the beginning). By attempting to restore the old file system, the best you can get is a readable disk that has some of your files on it. Not all of them, and not the most valuable ones (such as documents, archives or photo albums), but just some random sample of files that were originally located on that disk. And if you're thinking of "unformatting" a system drive, forget about it: at least some system files are deemed to be missing, so even if you manage to boot the OS, you'll never get a stable system.
Recommendation: don't use "unformat" tools.
Undelete
Using an undelete tool is the second thing many computer users will do. While such tools exist and tend to do their job in good faith, they are simply not designed to handle disks with erased file systems. With some of the best undelete tools such as RS File Recovery you may be able to extract some of the files… but that'll be it. Not all of them, mind you.
What to use if important files were deleted after formatting the drive?
The primary purpose of RS Partition Recovery is to quickly recover files from drives that have been formatted, changed the logical structure of the drive or file system.
Despite this, RS Partition Recovery can be effectively used to recover files after deletion using the Shift+Delete key combination, removing viruses and other data loss options. To search for data in the program RS Partition Recovery uses unique algorithms that allow you to find and recover data quickly.
Besides, RS Partition Recovery, supports all file systems that Linux uses, for example XFS, Ext2/3/4, ReiserFS, UFS etc. It makes the program a versatile tool that can recover lost data from any type of the drive.
The process of recovering data after formatting a drive looks like this:
Step 1: Run the RS Partition Recovery utility already installed in your system. For quick and efficient program usage, there is a Wizard – a program guide, through which the recovery process can be performed by any user, regardless of the level of computer skills. To start working in the first window of the Wizard, click "Next"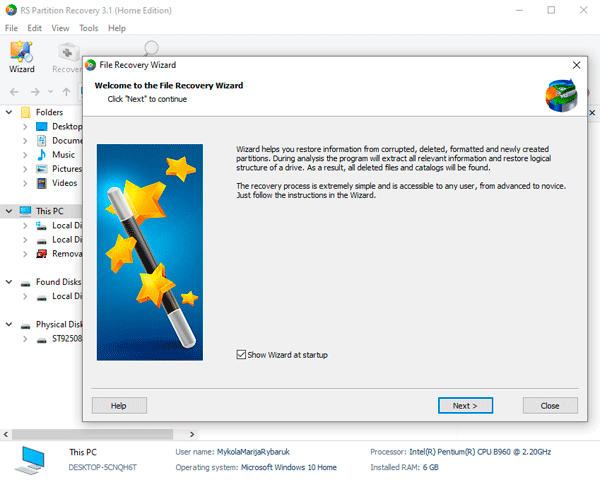 Step 2: In the wizard's menu that appears, select a logical partition, drive, flash drive or any other storage device.
In our case the information recovery process will be performed with disc D. Choose the desired partition and click "Next"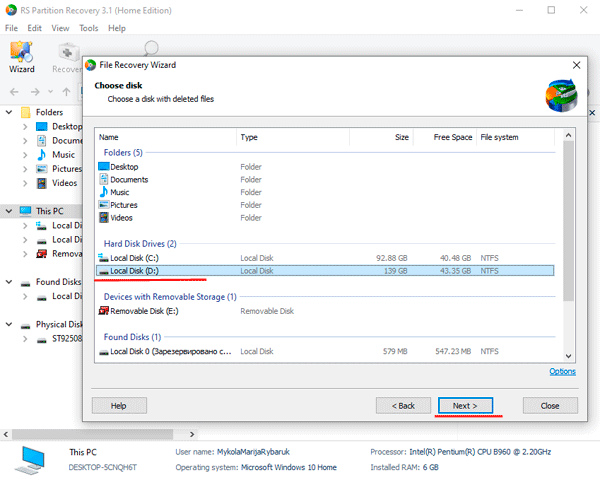 Step 3: In the next menu, the RS Partition Recovery Wizard prompts you to perform a quick or full drive analysis to find the data. A quick scan should be used if files have been deleted relatively recently.
If the drive has been formatted, we recommend using a full scan to find all possible data for recovery. Select "Full Analysis" and click "Next".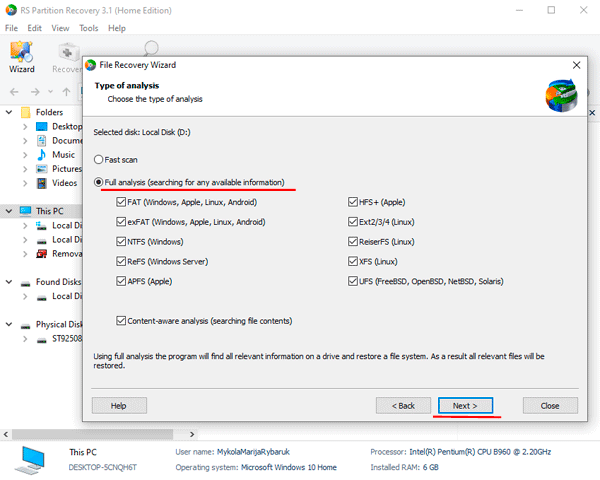 Step 4: The disk analysis process is displayed as a graphical scale. It should be noted that the full analysis may take some time, which directly depends on the disk size and the amount of data stored on it.
In this step, you should wait for the analysis to complete without shutting down or rebooting your computer. You should refrain from saving, writing, or reading files from the disk being checked during the analysis!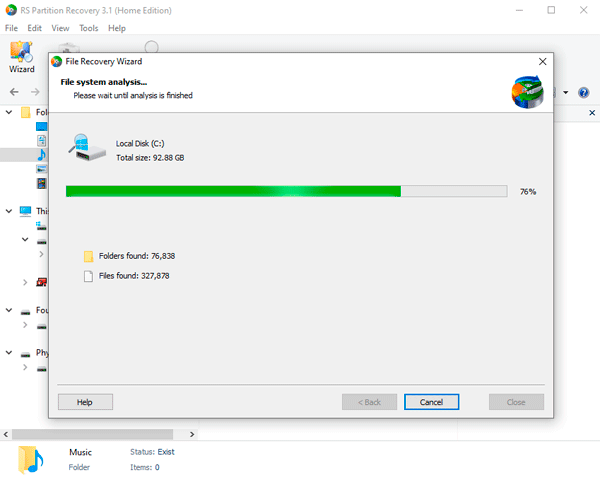 Step 5: After the analysis is finished, you should press the "Finish" button. Immediately after that, the restored media structure will be opened. Now you should go to the folder where the important data were stored before deleting.
In our case, we will restore the photos from the Viber messenger. The images were partially lost during the unsuccessful partition formatting
Go to the desired folder and find the deleted images. Deleted files are marked with a red cross. When you hover your mouse over a file, a pop-up message will show a probable recovery forecast.
Besides, if you select a specific image, you can see the "Preview" on the right side of the window, which will allow you to quickly find the necessary photos.
To restore deleted files, you should select them in any order and then press the "Recovery" button.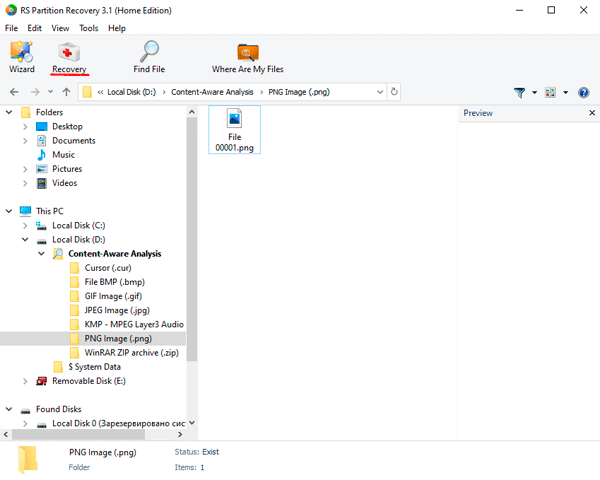 Step 6. Now all you need to do is select the drive where the recovered data will be saved.
Important! Data recovery must always be made to the other drive!
For this purpose, the RS Partition Recovery functionality allows you to save recovered files to disk, upload them to the server, etc.
In our case, we use two drives so that the recovery will be performed on the hard drive. Choose the necessary option and click "Next"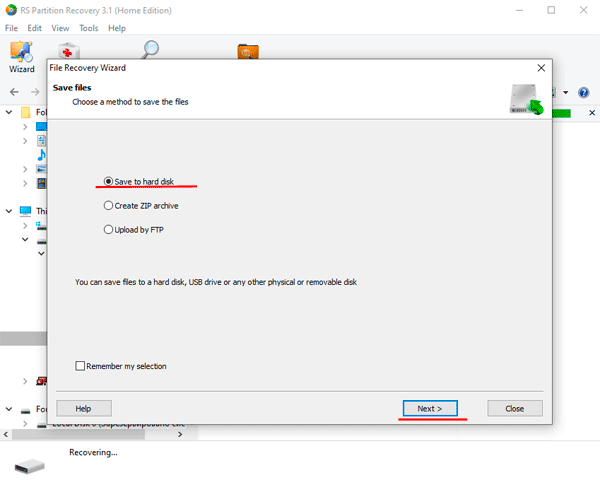 Step 7: Specify the path to restore, keep all other default settings and click the "Recovery" button.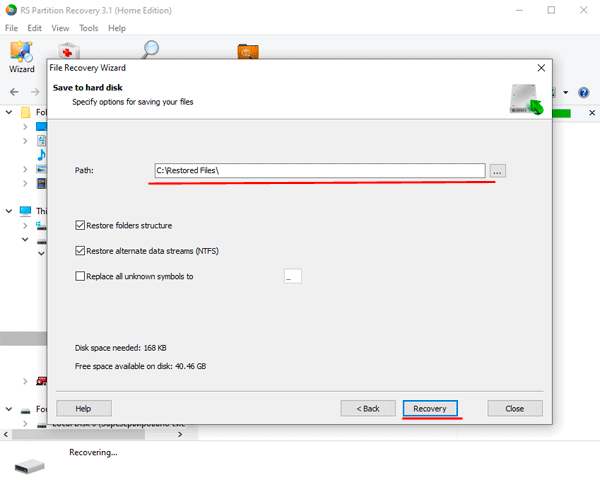 The files have been successfully recovered, to view them, just go to the path where RS Partition Recovery returned the formatted data.
FAT and NTFS Recovery
You can save as much as 40% of the price of RS Partition Recovery by opting to a tool that can only recover disks formatted with FAT or NTFS. Note that you'll need to buy a tool that matches the original file system, and not the one that's been written on top. If your original drive was NTFS, get RS NTFS Recovery. If it was FAT/FAT32, get RS FAT Recovery. This way you'll be getting exactly the same quality tool – just limited to either FAT or NTFS. A perfect choice for a one-time job.