Today we're going to look at how to bring back a previous Windows version if you installed Windows 8/10, why you need the Windows.old folder, why it takes up so much space, and how you can remove it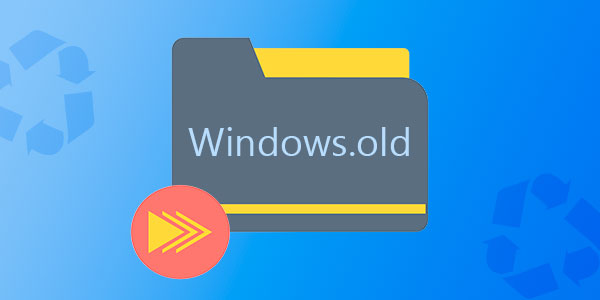 Content:
The Windows.old folder is a special directory inside which all the data from the previous version of the operating system are located. This folder appears when a user has updated his operating system to a new version (for example, Windows 8 has been upgraded to Windows 10).
The main purpose of Windows.old is the ability to quickly roll back the current operating system to the previous version, which was installed before the upgrade. It can be useful if the user does not like a newer Windows due to system requirements, features, design, or any other settings.
It should be noted that in addition to returning the operating system to the previous state, the user will be able to return all installed applications, settings, and files. This way, the computer will be able to return to a state where a newer version of Windows was installed.
Since each computer uses an individual set of software, the Windows.old folder may have a different size depending on the number of files stored, installed programs, and other information.
Important: Windows.old is a temporary directory that will be automatically deleted thirty days after you install the system.
How can I return the system to a previous version?
If a user decides to return to a previous version of Windows after installing Windows 10, this procedure can be done quickly using the system interface:
Step 1: Right-click on the "Start" button and select "Options" in the menu that opens.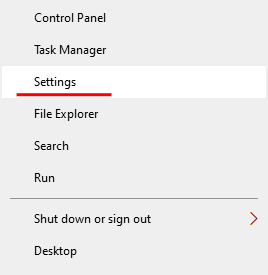 Step 2. In the window that opens, select "Update and Security"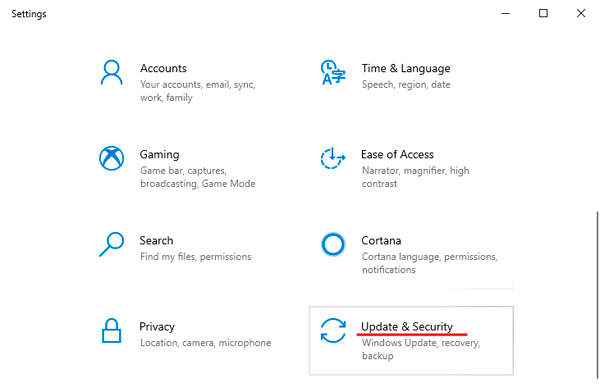 Step 3: In the update menu, go to the "Recovery" column, find "Go back to Windows 7" and click "Get Started"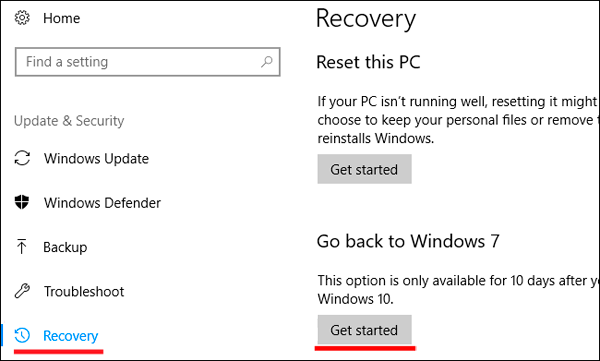 After that, you will automatically install the previous Windows version, whose files were located in the Windows.old folder.
Restore data from your Windows.old folder
In addition to system rollback, the Windows.old folder can be used to manually restore files and data that were present on the old version of the OS. To do this, just go to "C:\Windows.old" and open the folder "C:\Windows.old.\Users\Username" in explorer, where the data from the old version will be located.
If you find that some important files are missing or have not been saved in the Windows.old folder, it may be the reason that file transfers do not work correctly when you install a new Windows.
This problem may occur in rare cases, so operating system developers always recommend back up important data that may be lost during the transfer.
The problem of deleting data and files cannot be solved with the system's built-in tools, and the user needs to use third-party programs to recover files. For this purpose, Recovery Software offers to use one of its utilities that are designed to recover information after deletion, formatting, destruction by changes in the logical structure of the drive, or by the action of malicious programs.
In the Recovery Software arsenal, there are the following utilities capable of quickly recovering lost data:
RS Partition Recovery is a specialized utility for complex recovery of lost information. The program functionality allows you to recover data after formatting, changing the file system and redistributing disk partitions. RS Partition Recovery is suitable for all file types.
RS Office Recovery is a program for recovering text files, office documents and files created in Microsoft Office, OpenOffice, Adobe, etc. The features of the utility allow you to quickly find important documents using selective search by file extensions, date of creation and other characteristics.
RS Photo Recovery is a program for emergency restoration of images, photos, pictures and other graphic files of any type. This utility will become an indispensable assistant for photographers who take photos in RAW or store processed photos in psd. RS Photo Recovery will easily restore a randomly deleted photo session from a memory card, regardless of its format.
Each of the utilities will help you return important deleted data of the required type. The software uses complex algorithms to scan the disk's surface and perform an in-depth check to find all possible information that can be recovered. Recovery Software has low system requirements, which allow you to use the utilities on any laptop or office computer. Besides, the utilities have an intuitive interface and built-in helpers that can help you recover data in just a few clicks.
To recover files in the Windows.old directory, scan your system drive with a deep or quick scan, and go through the program interface to the folder where your data was stored.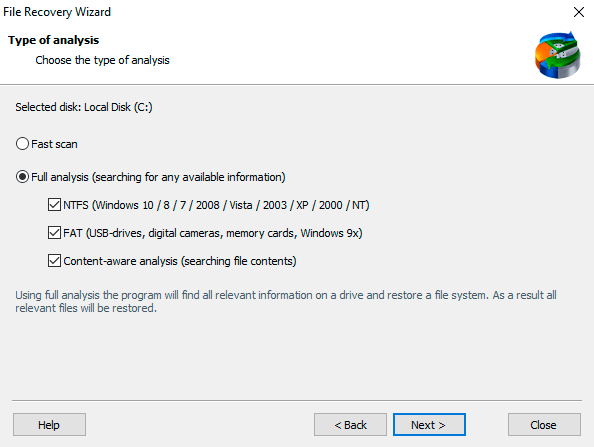 You can recover deleted files by using the corresponding button located in the upper left corner of the recovery program window.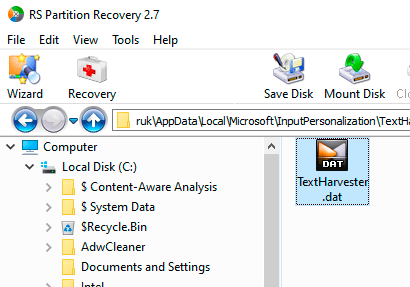 How can I delete my Windows.old folder?
If you are sure that all important data has been transferred to the new operating system, the Windows.old folder is no longer needed, and you can delete it without waiting a month for automatic cleaning to take place..
It should be noted that a folder can be over 20 gigabytes in size, which can make up a significant part of the system partition, so we advise you to follow these steps to remove the folder:
Step 1: Go to the folder "My Computer" or "This PC" and right-click on the system partition (usually "C Disk C"). In the menu that opens, select "Properties"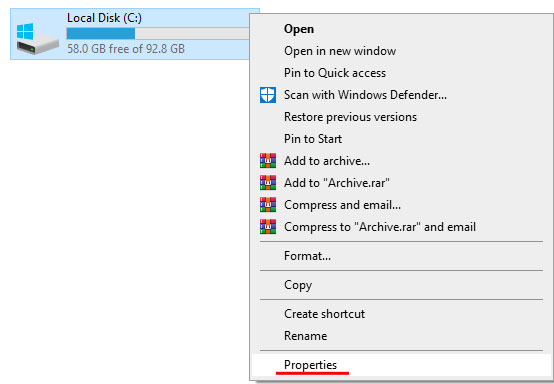 Step 2: In the window that opens, select "Disk Cleanup"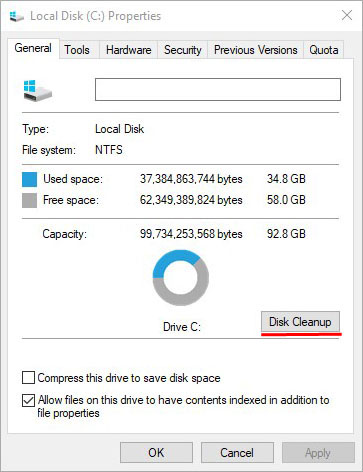 Step 3: In the next window, click on the "Clean up system files" button.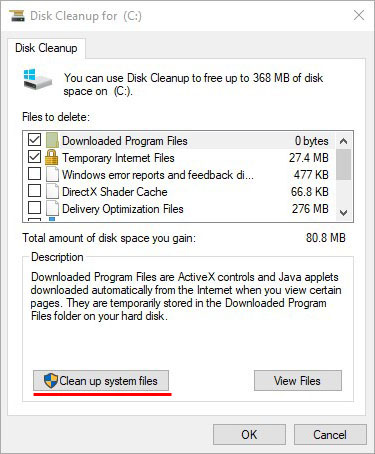 Step 3: To clean up the Windows.old folder, check the "Previous Windows Installations" item in the "Files to delete" column and confirm the action with the "OK" button.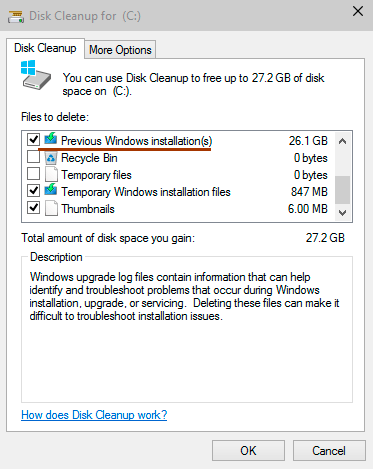 In addition to the Windows.old folder, your computer can also store a lot of extra information that takes up disk space. See the article «Secure erasing files with Windows Disk Cleaning»for how to fix this.