Lost access to important work? Deleted documents with Shift+Del or cleared the Recycle Bin? Trying to access documents located on a corrupted flash drive, damaged disk or formatted partition? RS Office Recovery will help recover these documents even if the original storage device is badly damaged and completely inaccessible.
Restoring Documents and Recovering Files with
RS Office Recovery 4.5
Documents lost on corrupted partitions and inaccessible volumes, formatted and repartitioned hard drives can sound scary – but not if you're using RS Office Recovery! This data recovery tool is designed to take care of the most difficult cases in full auto mode, helping you to recover documents easily with a step-by-step wizard.
Download
Registration
Sophisticated Recovery Algorithms
RS Office Recovery packs some of the most sophisticated data recovery algorithms currently on the market. Its Quick Recovery mode is blazing fast, allowing to get back recently deleted documents in a matter of minutes. In Comprehensive Analysis mode, the tool thoroughly analyzes the entire content of the device, performing content-aware scan and reliably recovering documents even if the disk has been formatted, repartitioned, corrupted or badly damaged.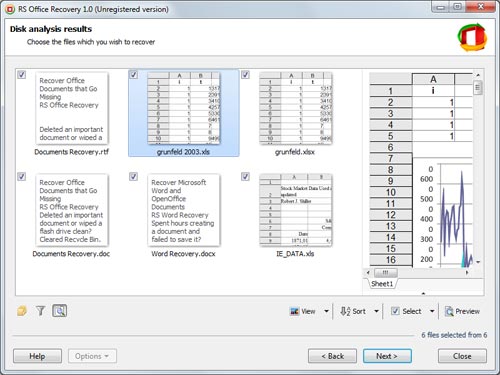 Wide List of Supported Formats
Supporting documents and spreadsheets produced by all versions of Microsoft Office (DOC, DOCX, XLS, XLSX, RTF, HTML etc.), Adobe PDF and OpenOffice (ODS, ODT), RS Office Recovery performs an exemplary job when recovering office work. With RS Office Recovery, you'll only need one recovery tool regardless of whether you use Microsoft Office, OpenOffice or both!
No-Clutter Recovery
RS Office Recovery introduces a feature no other tool has. The preliminary integrity check is performed on all documents discovered during the search, instantly filtering out damaged, corrupted and incomplete files that won't open in Microsoft Office. Only 100% perfect documents make it to the recovery list, reducing visual clutter and allowing significantly faster operation on large disk with hundreds and thousands of documents.
Easy Operation with Full-Size Preview
RS Office Recovery is easy to learn and simple to use. Offering a highly intuitive recovery wizard, RS Office Recovery can solve the most complex problems one little step after another. The built-in viewer enables fully visual preview of recoverable documents, allowing to view documents and spreadsheets before they are even recovered.
Content-Aware Analysis
When it comes to formatted, repartitioned and corrupted storage media, RS Office Recovery does a great job recovering documents by performing content-aware analysis of the entire disk surface. During content-aware disk scan, the tool will read the entire content of the device block after block in an attempt to detect characteristic signatures identifying the beginning of a document. When a signature is detected, RS Office Recovery locates the file header and analyzes its fields in order to determine file attributes such as its name and length. By performing content-aware analysis, RS Office Recovery produces amazingly complete results, often allowing to recover the entire disk content.
Recovering from Unreliable Disks
When recovering documents from faulty and unreliable disks, minimizing the number of read operations is essential to avoid computer lock-ups and preliminary drive failure. To facilitate the recovery from unstable media, RS Office Recovery introduces the ability to create a bit-precise Virtual Drive Image in one long read operation. After capturing the image, RS Office Recovery can continue recovering documents from the image file without requiring access to the original storage media. This approach offers worry-free recovery from disks covered with bad blocks, heavily worn and electronically unstable devices.
Recovers Documents from All Types of Media and File Systems
RS Office Recovery was tested on all types of storage media currently available. That includes hard disks and SSD drives of most major makers, all types of memory cards, and many popular models of USB drives. The tool was tested with more than a hundred different devices to ensure unparalleled compatibility.
Features at a Glance
Recovers documents in Microsoft Office and OpenOffice formats (DOC/DOCX, XLS/XLSX, PDF, RTF, HTML, ODS, ODT and so on);
Recovers encrypted and compressed documents;
Supports NTFS on-the-fly compression scheme;
Recovers documents from formatted FAT and NTFS partitions and repartitioned hard drives;
Recovers documents from damaged and inaccessible media;
Recovers documents from hard drives, SSD drives, flash memory cards and all other types of storage media;
Supports most major file systems including exFAT / FAT / NTFS / APFS / ReFS / XFS / UFS / ReiserFS / Ext2/3/4;
Supports 32-bit and 64-bit versions of Microsoft Windows XP, Vista, 2003 and 2008 Server, Windows 7-8 and Windows 10;