Now anybody can recover data from a deleted or corrupted partition, and even restore the complete structure and contents of their hard disk following formatting. Use RS Partition Recovery to instantly and recover all your data in its entirety.
RS Partition Recovery 4.6
These screenshots from RS Partition Recovery allow you to see the simplicity and ease-of-use of the software even before you use it first-hand. So download and install RS Partition Recovery to begin recovering your lost data. Note, you cannot install the software on a disk or partition where the information to be recovered was previously stored.
Try For Free
Buy Now
After installing the software, in the main program window select the disk you wish to recover files from. If you are using the program to scan large volumes of data, this may take some time.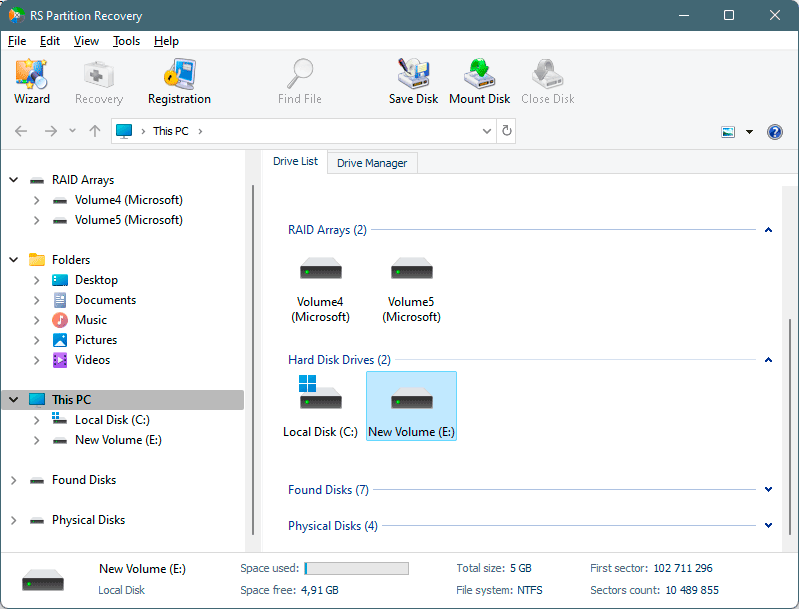 In the window that appears, select the type of analysis you require. In most cases, the Quick Scan will be sufficient – the majority of lost data will be recovered almost instantly. In cases where the file system is corrupted more seriously, it is recommended that you carry out a Full System Analysis.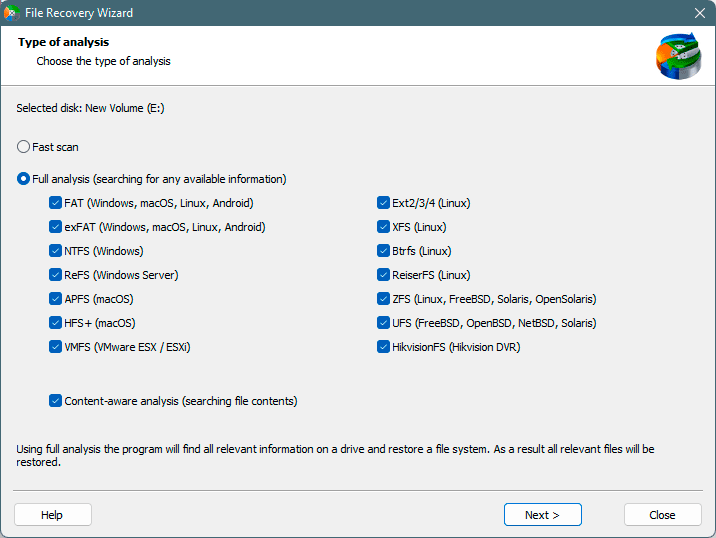 When the scan of the selected disks is completed, all the detected files are shown in a standard Explorer window.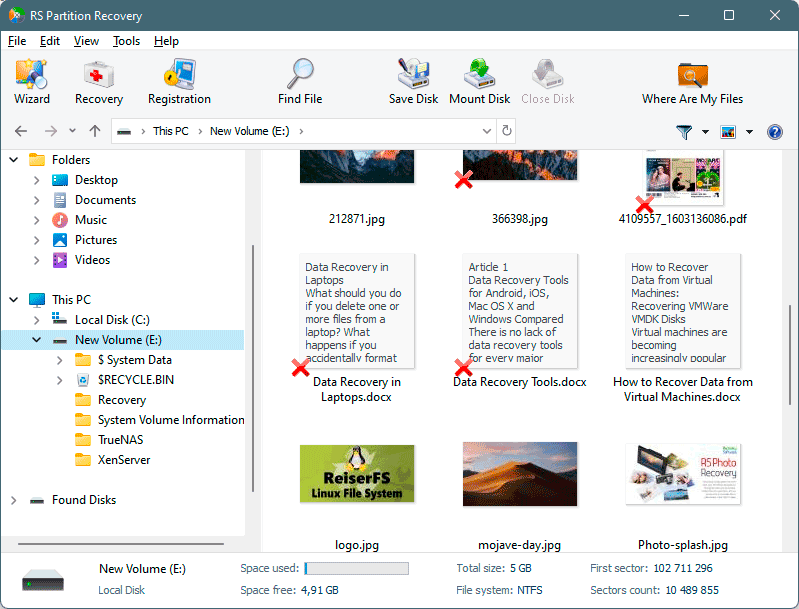 To set specific search parameters for deleted files or find and restore specific files from your lost documents, you can use the Recovery Wizard. In addition to this, the Wizard allows you to recover information automatically. There are just a few simple steps you need to carry out.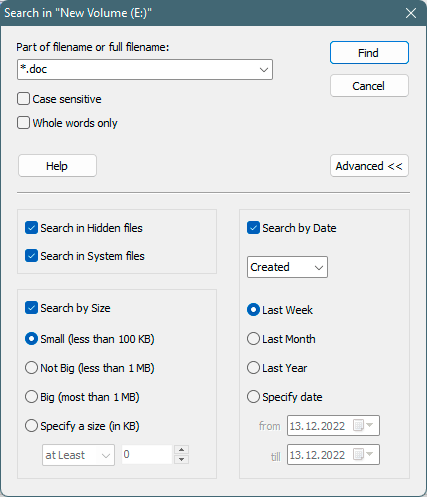 If you have deleted data from a disk that you cannot recover immediately, you can create and save a virtual image of the disk as it is.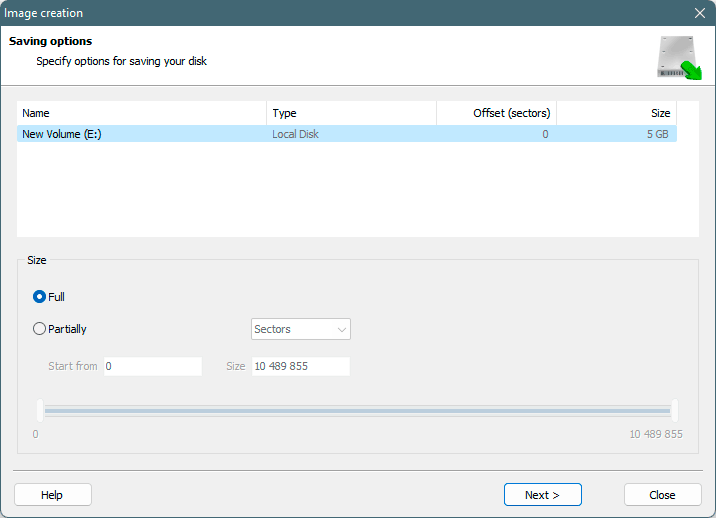 This allows you to work with a partition that contains the important information as normal, without the fear of being unable to recover data as a result of newly-saved files on the partition. Select the "Recover Disk" function and in the window that appears, set the parameters for creating a disk image. By using the "Add Disk" button later, you can open the saved disk image, add it to the master list, and work with it like the existing disk.
Use the "Recover" button (or the corresponding menu item), to saved the required data. In the "File Saving" window, select one of the options for saving recovered files.
It is recommended that you save the data to a different disk to that where the recovery is carried out.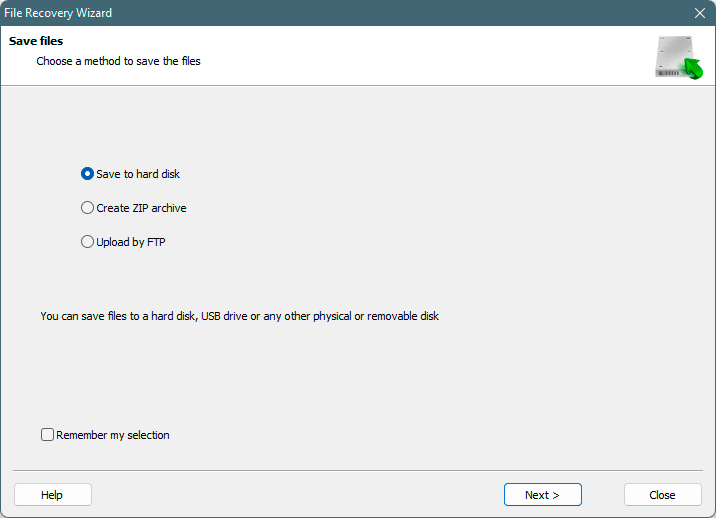 Save recovered files to hard disk.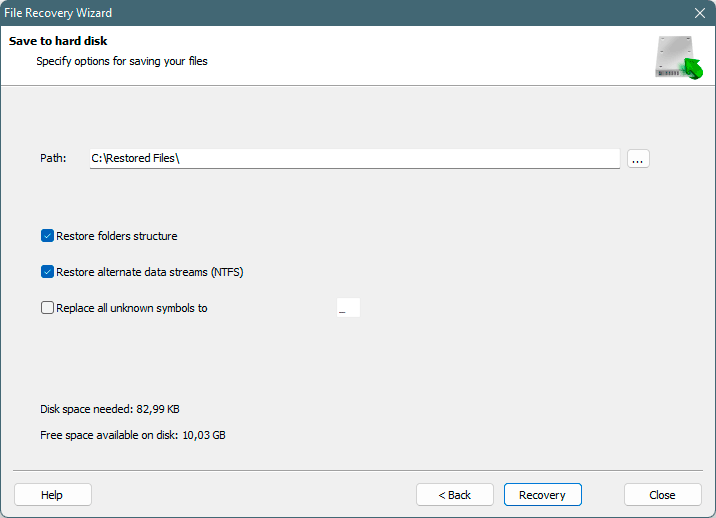 After saving, a "Restored Files" folder will appear on the storage medium you specify.