In this article we will describe what you can do if you connect a flash drive to your computer and the operating system does not recognize the flash drive's file system or indicates that you connected a RAW drive, and how not to lose the data that was stored on such drive.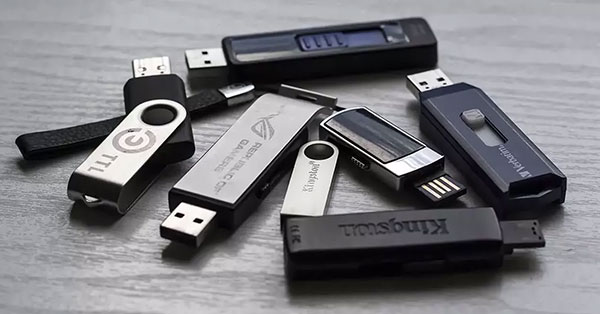 Content:
What is the RAW file system and what causes this error?
Before fixing or preventing a RAW error, you must first understand what a RAW error is. RAW is a file system error which means that the operating system cannot recognize the file system type or that it cannot access the file system of the drive. Some of the common reasons for your file system to become a RAW are improper flash drive removal, file system corruption, virus attack, lots of bad sectors, etc.
The other possible cause of the RAW error is a file system incompatible with OS Windows. For example, if you connect a flash drive formatted in APFS (Apple File System) to your PC – Windows will show that you are using a RAW drive since it does not support this type of file system.
It is worth noting that OS Windows supports the following file systems:
FAT;
NTFS;
exFAT;
Live File System;
ReFS;
Accordingly, if you know that your removable drive uses a different file system – then it is best to use a third-party utility to open your flash drive in Windows, otherwise, you will 100% get a RAW drive. For example, to open a drive formatted in APFS you can use a program from Paragon Software, which adds support for this file system to OS Windows. You can download the program from the official site.
In addition, the following messages also tell you that your drive has become RAW:
"You need to format the disk in drive before you can use it. Do you want to format it?"
"The disk on disk X is not formatted. Do you want to format it?"
"There was an error accessing disk X: the disk is not formatted"
"The file system type is RAW. CHKDSK is not available for RAW disks"
When your drive's file system changes to RAW, it becomes unreadable, which means that you cannot view the contents of the drive using standard tools. It means that you will not be able to access the data stored on it.
Since a RAW disk is a file system fault, it is possible to repair it without losing the information. The process of repairing a RAW disk is described in detail in the following paragraphs of this article.
Using formatting to fix a RAW error
Probably the easiest way to fix a RAW disk is to format it. During this process, a new file system will be created on the disk, which will be completely ready for use by your operating system.
However, this method assumes the complete deletion of all data that was stored on the removable drive – respectively, if your flash drive stored important information – you should not use formatting to fix a RAW disk.
This method is suitable for those whose flash drive has stopped working and who want to quickly get it working again despite the data loss.
If your RAW drive did not contain any important information, you should do the following to fix the RAW error by formatting it:
Step 1: Double-click on "This PC" icon on your desktop and in the window that opens, find your RAW drive. Right-click on it and select "Format"
Step 2: In the window that opens select the type of the new file system (preferably NTFS or exFAT). In addition, you can also enter a new name for your removable drive if you like.
When everything is set up – just click "Start" to begin the formatting process.
When the process is finished – all the data on your disk will be erased, a new file system will be created and you will be able to use it again for your purposes.
Converting a RAW disk using the command prompt
This method, as well as the previous one, should be used only if your flash drive did not contain any important information, because, as in the previous method, all the data on the drive will be destroyed.
The point is that sometimes an error occurs when formatting a disk using Windows Explorer:
Windows was unable to complete the format
In this case, the best way to format the drive is to use the diskpart utility, which can be accessed from the command prompt or Windows PowerShell.
To use this method you should:
Step 1: Right-click on the "Start" button and select "Run" (you can also use the "Win+R" key combination)
Step 2: In the window that appears, type "cmd" and press "Enter"
Step 3: You will see the command prompt window. Type the "diskpart" command and press "Enter" again.
Step 4: After successfully running the "diskpart" utility, enter the following commands one by one (and press "Enter" after each command to execute it):
list disk
– this command displays all the disks connected to your computer;
select disk n
– this command selects the disk you want to work with. n should be replaced by the number of the disk containing the RAW error;
clean
– this command completely cleans the previously selected drive (destroying the file system and all data);
create partition primary
– this command will create a new partition on your disk;
active
– this will make your partition active;
list partition
– to display all the partitions on your disk;
select partition 1
– this command will select the partition you just created for future use;
FORMAT OVERRIDE QUICK LABEL=FixedDrv
– this command will format your partition to NTFS (you don't need to specify file system type as diskpart will format your drive to NTFS automatically). FixedDrv is the name of your recovered disk. Accordingly, you can change it to any other name you like;
When the formatting process is complete, the result will look something like this:
To quit the diskpart utility, just type "exit" and press "Enter"
All done. A new file system is created on your disk and you can use it again.
Converting a RAW file system to NTFS without data loss
If important information was stored on the flash drive which became a RAW disk, you can convert it to NTFS. The conversion takes place in two stages. The first stage is to recover the lost data using a professional data recovery program – RS Partition Recovery. At the second stage, after the data has been successfully recovered and is in a safe place, you must format the flash drive to NTFS using the second or third paragraph of this article. Once the formatting is complete, your removable drive will be available for further use.
RS Partition Recovery is perfect for our case since it allows you to recover data after the flash drive's file system damages.
Let's start with the first stage of converting a RAW drive to NTFS. To recover the data you need:
Step 1. Install and launch the RS Partition Recovery.

Step 2. Select the drive or partition from which you want to recover data.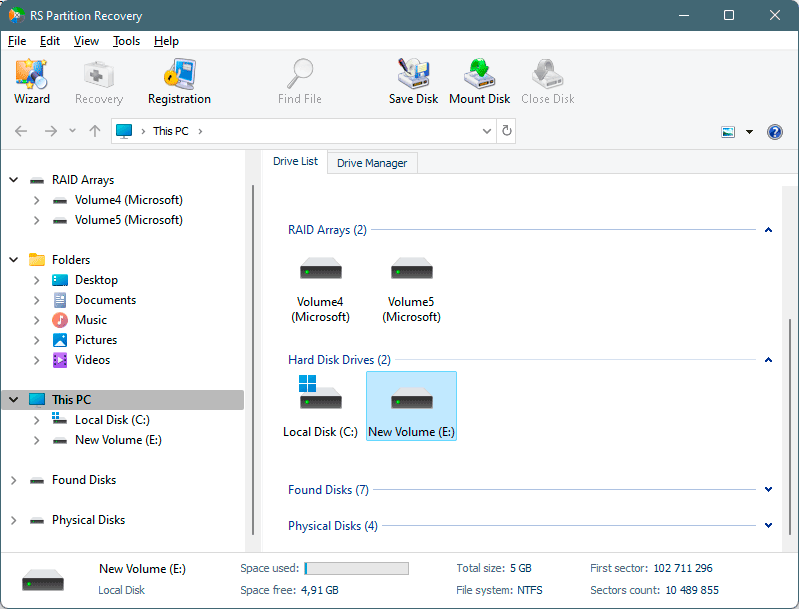 Step 3. Choose the type of analysis.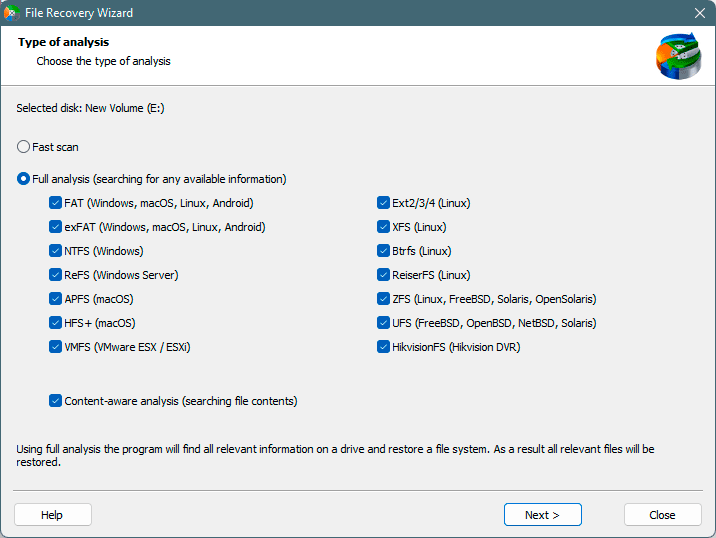 Fast scan you should use in case the file was lost recently. The program will scan the drive quickly and show the files available for recovery.
The Full analysis function allows you to find lost data, after formatting, disc resizing, or file structure corruption (RAW).
Step 4. Preview and select the files to recover it.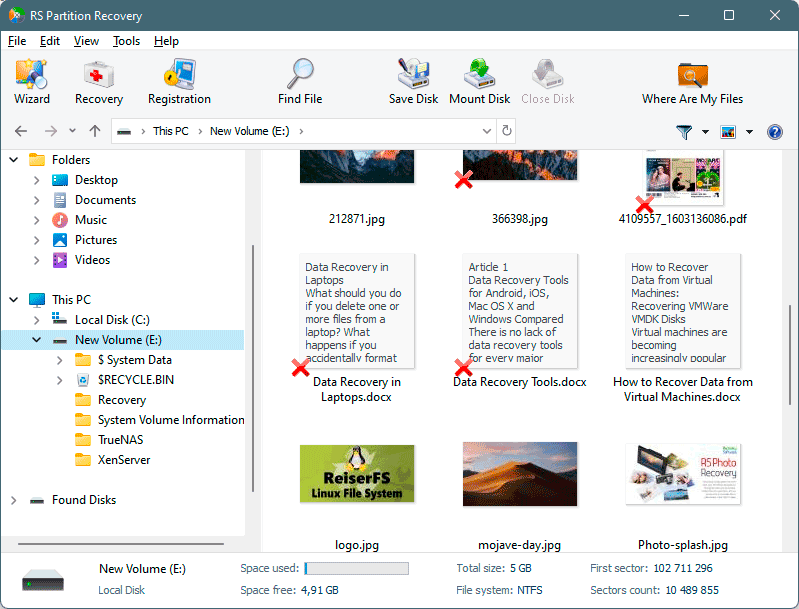 Step 5. Add the files you want to save to the "Restore list" or select the entire partition and click Recovery.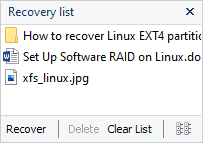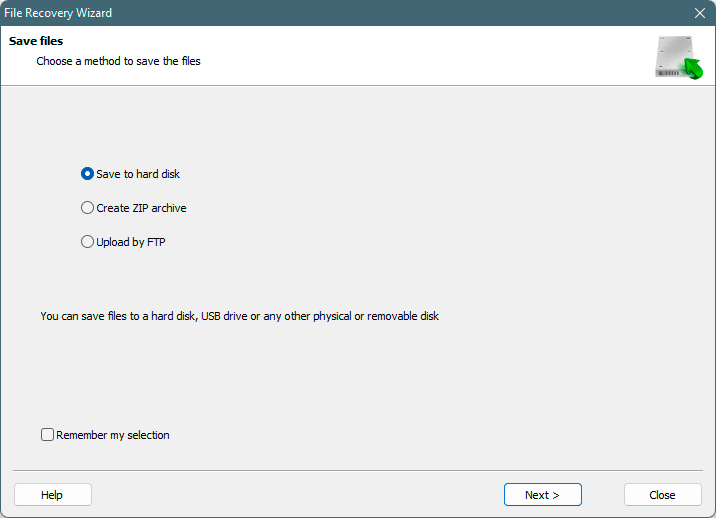 It should be noted that it is best to save the recovered file to an external hard drive or USB flash drive.
As you can see, thanks to RS Partition Recovery's intuitive interface the process of lost file recovery is very easy. In addition, the program does not demand computer resources – therefore it is perfectly suitable for use on weak PCs and office laptops.
Now that the data has been recovered, the second stage is the conversion of the RAW drive into NTFS. Use the second or third paragraph of this article to format your flash drive with the NTFS file system.
Frequently Asked Questions