How does Windows keep track of the user, and why does it do this? How to regain anonymity and limit personal information collection, how to disable tracking manually or with additional software.
Contents
Most modern programs, operating systems, browsers, digital distribution stores (Steam, Origin, Epic Games Store, etc.), and other utilities have built-in systems to collect information about the user's computer configuration. First of all, it is necessary to fit the software elements to a particular model's components, which reduces the number of errors and other problems. Besides, using this information, developers can determine the average configuration of the user's computer, which is also useful for creating new games and programs developed with this data.
With Windows 10, developers went even further. Now, the collection of information and personalized data allows you to automatically configure ads (based on the analysis of search queries) and potentially identify offenders who use pirated software or engage in illegal activities on the network.
It should be noted that some users may not like the system's spy activities because in the process of collecting and storing personal data on the server often there may be various leaks, database hacking, etc., which could eventually pose a threat to valuable information stored on disks.
Interesting fact: most professional hackers and carders use older versions of Windows or third party operating systems for their activities, as these systems have much less built-in spyware utilities that conduct surveillance. Besides, private networks, the Tor browser, and network protocols further mask illegal activity. Below we will look at the main ways to disable surveillance in Windows 10.
Setting up the operating system during installation.
Despite the built-in Windows 10 tracking systems, the user can turn them off. To begin, you should disassemble the disabling of spying during the OS installation.
The settings menu appears after the full system installation, right after the digital key input window. This menu is called "Get going fast", where the user can select the "Customize Settings" item leading to the advanced settings.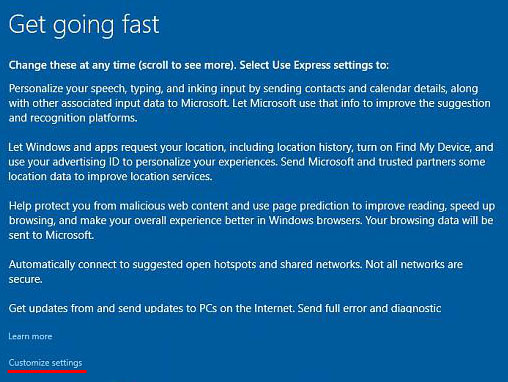 In the next window, you can find a large number of tracking parameters that can be disabled. To ensure maximum security at this stage, it is recommended to disable all items without exception.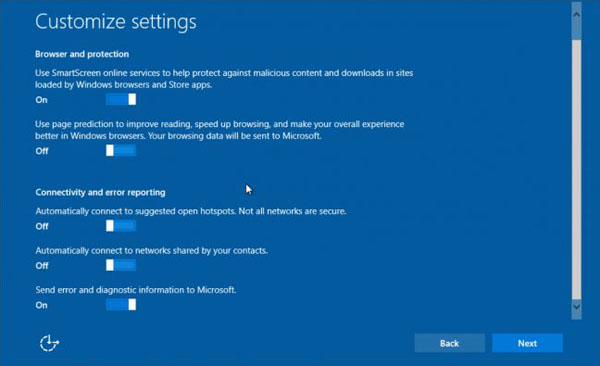 After you disable items, click "Next". In the next settings window, advanced users leave the SmartScreen service and disable all remaining settings. In addition to this, many use a local Windows account, as the connected account is synchronized with the server and leaves a large "window" to leak personal data.
By disabling everything unnecessary, the user can significantly reduce the flow of personal information to Microsoft servers.
Important: Some people think installing a pirate operating system with "cut out" tracking functions will help eliminate spying completely. This judgment is wrong, because a pirated OS may have a latching tracking system, stealing personal data, information, passwords, login data, etc. That is why we strongly recommend not using pirated Windows builds.
Disabling tracking in already installed Windows 10.
In addition to disabling tracking during the installation process, the user can limit spy activity in the already installed windows 10.
To do this, you should:
Step 1: Click on the notification icon in the lower right corner and select "All Settings" indicated by the gear icon.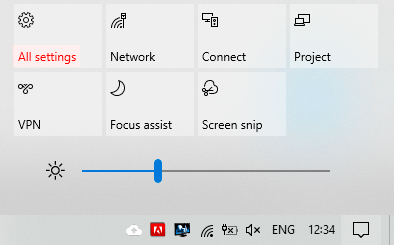 Step 2: In the window that opens, select the "Privacy" item.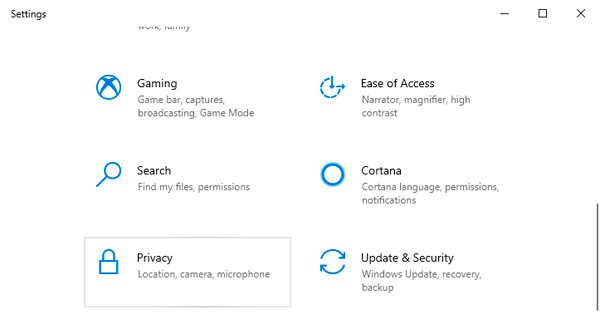 The window that opens contains many items responsible for tracking. Consider them in more detail.
In the "General" column, you can safely disable all functions except "SmartScreen". Disabled parameters will allow you to limit tracking and slightly speed up the performance.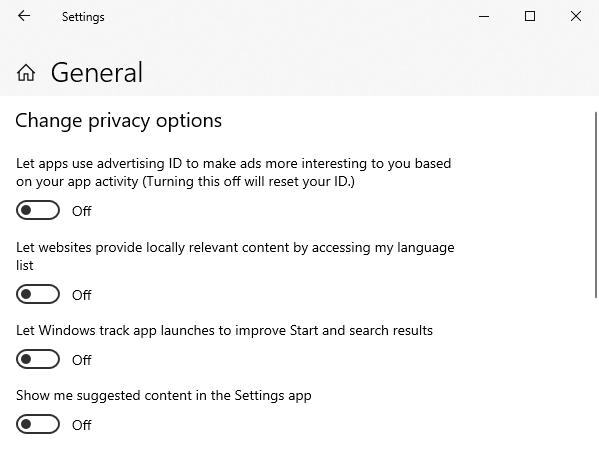 In the next "Speech" item, you should disable this system to increase your privacy. When turned off, the function looks like this: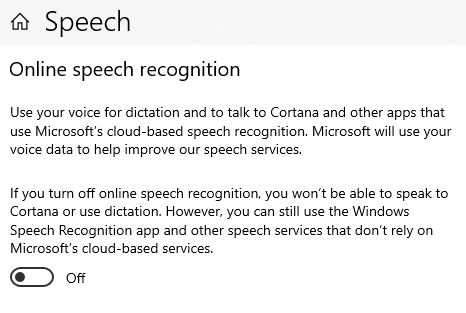 The "Diagnostics & feedback" item is also subject to complete disabling, since these functions can potentially be used to collect confidential information.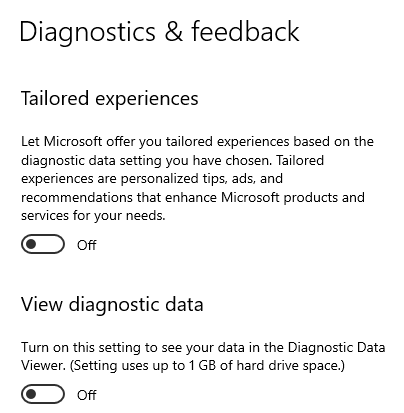 In the "Action History" item, you should uncheck the boxes responsible for tracking the system and sending any information to Microsoft servers.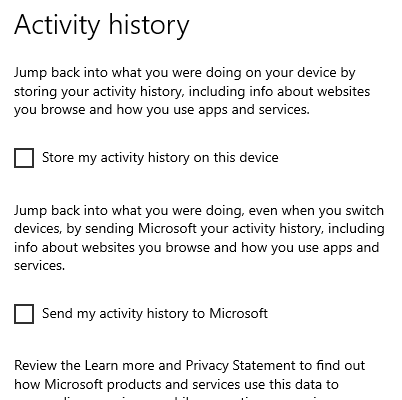 The "Location" item is responsible for the PC's location, so these settings should be disabled.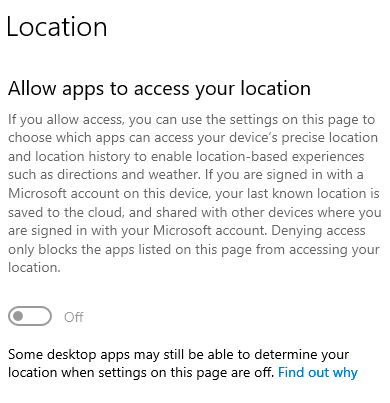 In the items "Camera", "Account Information", "Contacts", "Microphone", "Radio", etc. there is a possibility to altogether disable or selectively enable certain settings for specific applications. If the user does not use additional equipment, you can safely disable everything.
In addition to the above items, to ensure security and anonymity, it is recommended to disable the parameters in the Wi-Fi settings. To do this, go back to the "Windows Settings" menu, select "Network and Internet" and switch the slider to disable under "Search for Paid Plans for Neighboring Recommended Open Access Points". The next item to disable is a special column in the "Update and security" section, hidden under the "Advanced settings" button.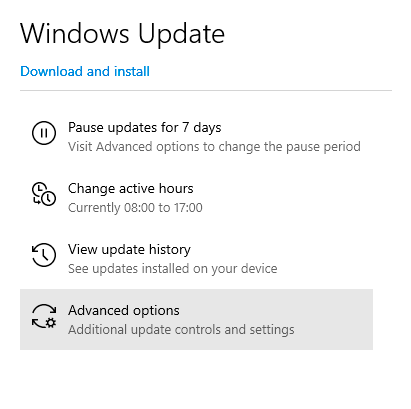 In the window that opens, go to "Delivery Optimization"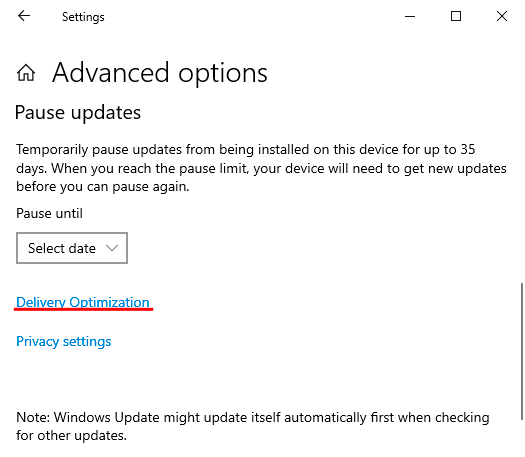 In the next window, move the slider to the off position under "Allow downloads from other PCs"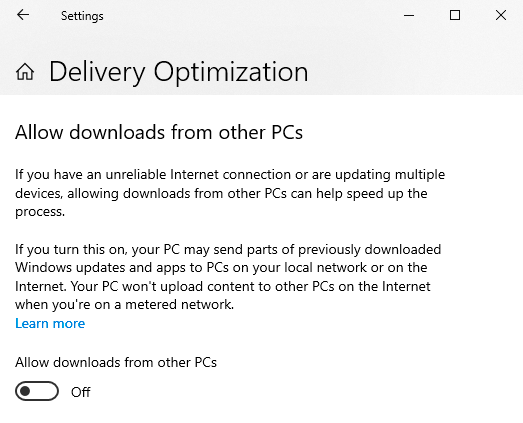 It should be noted that the above functions are only a small part of what can be disabled in Windows by increasing the speed of the computer.
To see the full list, we recommend that you read the manual "Features that can be disabled in Windows 10"
How do I disable tracking with additional software?
Manual disabling of tracking functions in Windows 10 is quite a long and confusing process. Many users prefer to install special utilities designed to disable spy services of the operating system quickly.
Among these utilities, there are free programs, among which we can highlight: Ashampoo AntiSpy, O&O ShutUp10, WPD, Windows Privacy Tweaker Destroy Windows 10 Spying, Spybot Anti-Beacon, etc.
Each of these programs has a relatively simple user interface and uncomplicated settings. Important! Before you disable Windows spy functions with the help of additional software, we recommend you to create a recovery point ("Windows 10 Recovery Points"), so that there is always a possibility to return the OS to the previous state.
Frequently Asked Questions