In this article, we will explain how to use Windows File Recovery in Windows 10 to restore accidentally deleted files.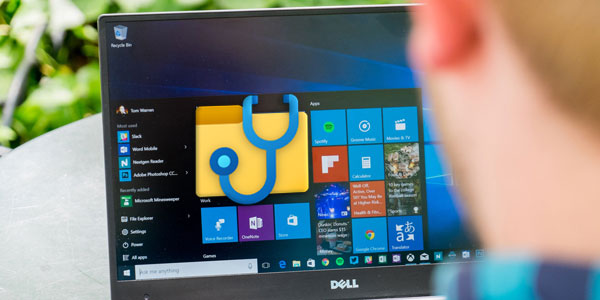 Contents
What is Windows File Recovery?
Microsoft has just recently released its data recovery software, called Windows File Recovery. This is a new free utility from Microsoft for recovering deleted files from different storage types. The utility is available since Windows 10 2004, installed through the Microsoft Store, and works only in console command prompt mode.
The utility allows you to scan the file system and find deleted files. Several scanning modes are supported (MFT tables, signatures of known file types, and segment mode). Windows File Recovery supports the NTFS, ReFS, FAT, exFAT file systems and can recover deleted files from locally connected devices: USB flash drives, HDD, and SSD.
The main features of Windows File Recovery
Microsoft positions Windows File Recovery as a console data recovery tool that is suitable for experienced users. Among the main features of the program are the following:
Several recovery modes, such as "Default", "Segment" and "Signature" About which mode, when to use we will talk below;
Multiple file systems support (NTFS, FAT, exFAT, and ReFS);
Supports different file types to recover, such as photos, documents, videos, etc;
Support for different types of hard drives: HDD, SSD (there are limitations due to the use of TRIM), external USB disks and memory cards;
As you can see, the list of features is not very long compared to the competition. The utility only works with Windows 10 version 2004 (build 19041 or later), it has no GUI, so you have to use the command prompt. Read about how to install and use Windows File Recovery below.
How to install the Windows File Recovery?
To install the Windows File Recovery program, use the Microsoft Store. To do this:
Click on the search icon in the lower-left corner and in the window that opens, type "Microsoft Store".

In the search results, you will see Microsoft's app store. Click "Enter" to open it.

In the application store that opens, enter "Windows File Recovery" in the search bar.

Select the appropriate program in the search results and click "Get".

Once this is done, the application will start downloading. When the download completes, you can find Windows File Recovery in the "Start" menu.
Usually, new applications are displayed under "Recently Added"
If for some reason your Microsoft Store gives you an error downloading or installing a program – you can use the instructions to fix the problem with Microsoft Store .
How to use the Windows File Recovery?
As mentioned above, Windows File Recovery does not have a graphical interface, so you will have to use the command prompt to work with the program.
So, to start to use the program you should:
Right-click on the "Start" button and select "Windows PowerShell (Admin)"
Step 2: In the window that opens, type the command "winfr" and press "Enter" to start Windows File Recovery.
The winfr.exe utility has 3 modes of functioning:
Standard mode – this mode uses the MFT table to search for files. This mode is effective if file record segments (FRS – file record segment) are still present on the disk;
Segmented mode – instead of searching through the MFT table, the various NTFS segments on the disk are searched. Segments are various attributes of a file on disk: name, size, type, dates etc;
Signature mode – the utility searches the disk using the signatures of various file types (winfr has several built-in signatures for popular file types). This mode is not good for small files. It is the only mode that supports disks with file systems other than NTFS.
In general, you need to enter the following command to recover data from some disk:
winfr drive_letter: path_to_the_file_for_recovery
For example:
winfr E: D:\Recovered
— this example will search for all lost files on drive E and they will be restored to folder D:\Recovered (you cannot restore files to the same drive you restore from).
The specified folder must be created beforehand.
However, there are additional options for controlling the recovery using the parameters you pass:
The /x parameter enables a signature-based search and allows you to recover files not only from NTFS but also from FAT32/ExFAT/ReFS partitions. This may be useful, for example, when recovering photos and other files from a flash drive or a memory card. The command example:

winfr E: D:\Recovered /x

The /y parameter allows us to set the types of files to search for. For example, to restore only JPG and PNG from a FAT32 flash drive we can use the command:

winfr E: D:\Recovered /x /y:JPEG,PNG

The /n parameter allows you to recover files based on the pattern in the filename. For example, to recover all files whose name starts with "re" and the extension is .docx or .doc only from an NTFS drive we can write a command like this:

winfr E: D:\Recovered /n re*.doc*
"Asterisk" can replace any character or set of characters.
With the same parameter, you can recover files only from a certain folder, for this purpose use it as follows /n \folder_path\ (you do not need to specify the drive letter additionally, the drive you specified at the beginning of the command is used).
If, for example, you know the exact name of a deleted file and the directory where it was located, you can set a filter so that the program will find only the file you need and restore it. The command to restore your file will look like this:
winfr E: D:\Recovered /n \folder_path\filename.txt
To see help about the Windows File Recovery utility's advanced options, run the command
winfr /!

Windows File Recovery also supports additional options, for example – /k to restore system files, but the current documentation does not tell you exactly how this option works.
Microsoft's detailed instructions on the data recovery utility are available here: https://support.microsoft.com/en-us/help/4538642/windows-10-restore-lost-files
RS Partition Recovery — the best alternative today.
Windows File Recovery is not a bad product, but it has room for improvement. For example, it is very inconvenient to use the product due to the lack of a graphical interface. Entering all the commands manually in a Windows PowerShell environment is very long and inconvenient. Additionally, you can make a mistake at the command prompt and the command will not run and you will get a message. If this happens, you will have to either look for the error in the command prompt or try to retype the command. In short, this is long and not always makes sense.
Therefore, it is better to turn your attention to third-party data recovery programs. In principle, there are not too few of them, but we recommend using only the best and proven programs, as this significantly increases the probability of successful recovery of important files.
As of today, the best program on the market is RS Partition Recovery. This is explained by the fact that the program uses advanced data recovery algorithms, due to which, the file is successfully recovered in 99% of cases. Besides, the program is easy to use and not demanding to resources of the computer, and the presence of graphic, intuitive interface of the program allows to successfully data recover even those people who not too much understand PC.
RS Partition Recovery is excellent for recovering files from accidental deletion, damaged logical disk structure, accidental formatting, file system corruption, etc.
The main advantages of RS Partition Recovery compared to Windows File Recovery
As we said above, RS Partition Recovery is the leader in the market of products for recovering lost data, and below we will explain why.
RS Partition Recovery, compared to Windows File Recovery has the following advantages:
Availability of a graphical interface, which makes the data recovery process very fast and convenient due to the absence of the need to enter commands;
Supports more file systems: exFAT / FAT / NTFS / ReFS / APFS / HFS / XFS / UFS / ReiserFS / Ext2/3/4 / BtrFS;
Supports data recovery from RAID arrays;
Supports Deep Disk Analysis, which allows you to recover data that has been lost for several months ago;
The ability to save recovered files to an FTP-server.
So as not to be unfounded, we'll take a look at the lost file recovery process compared to Windows File Recovery.
Step 1. Install and launch the RS Partition Recovery.

Step 2. Select the drive or partition from which you want to recover data.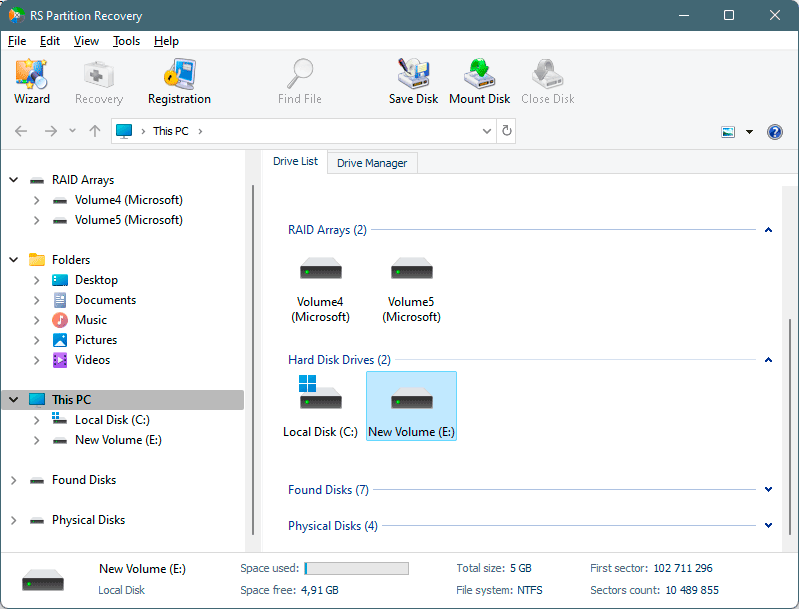 Step 3. Choose the type of analysis.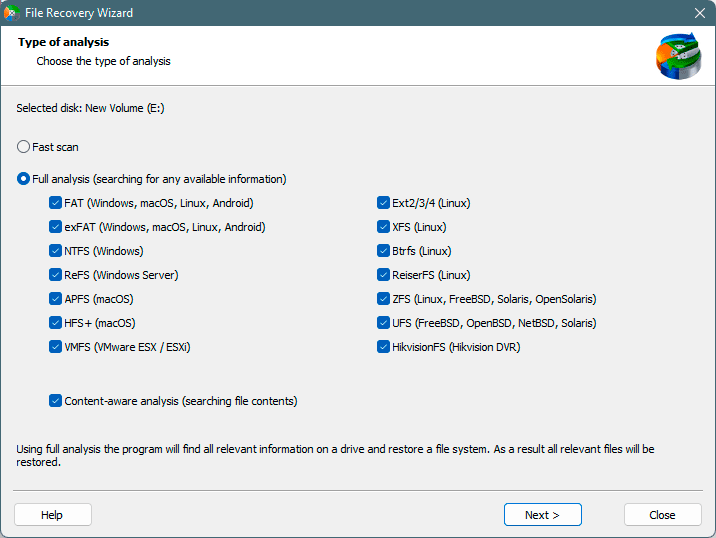 Fast scan you should use in case the file was lost recently. The program will scan the drive quickly and show the files available for recovery.
The Full analysis function allows you to find lost data, after formatting, disc resizing, or file structure corruption (RAW).
Step 4. Preview and select the files to recover it.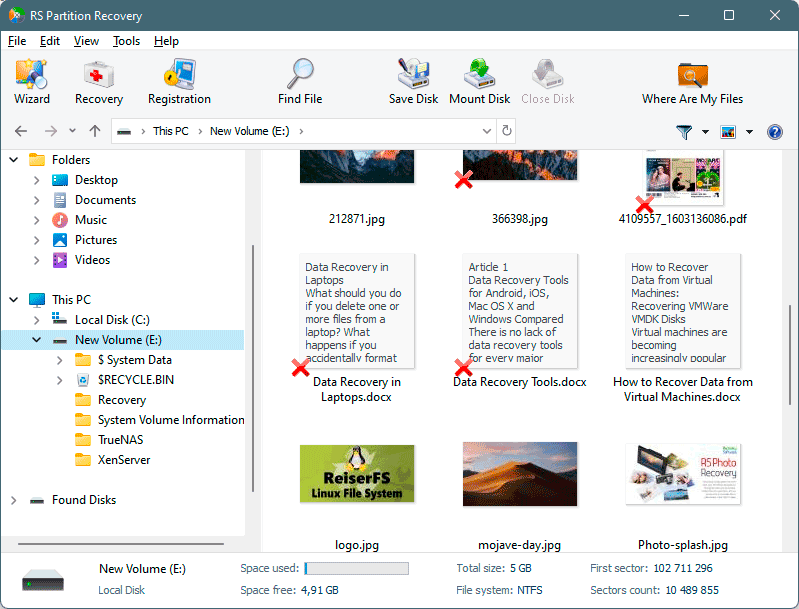 Step 5. Add the files you want to save to the "Restore list" or select the entire partition and click Recovery.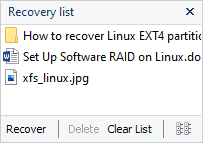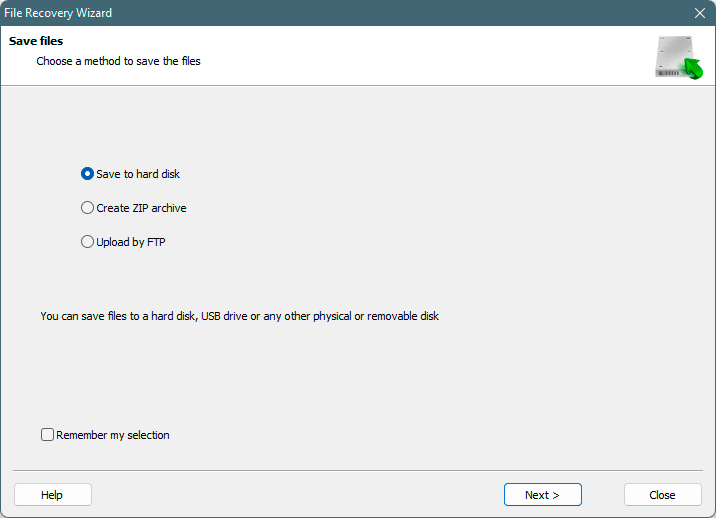 It should be noted that it is best to save the recovered file to an external hard drive or USB flash drive.
In Windows File Recovery, to recover a specific file, you will have to apply different attributes and it is all done from the command prompt.
In fact, you can recover your file in just a few clicks with your mouse only.
Frequently Asked Questions