Have useless file and folder shortcuts started appearing on your computer? These are probably virus pranks. Below we will analyze the main methods of searching and eliminating the malicious programs that create shortcuts.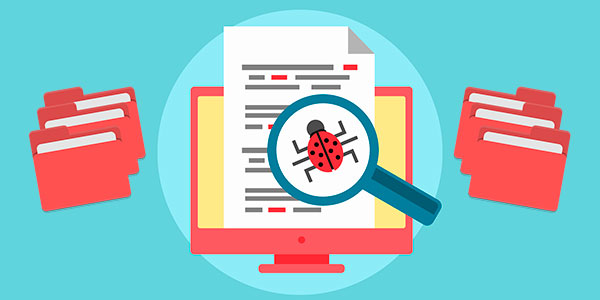 Contents
Malware and virus software can have different impacts on the operating system.
Some viruses remove data or steal important files from your computer. Others – create shortcuts for arbitrary files or shortcuts with questionable advertising and Internet resources.
Besides, a high activity of viruses has been noticed lately, making important files shortcuts through which data cannot be opened.
Such viruses can occur on the hard drive or removable disk drive, preventing comfortable use or replacing any connected device with a useless shortcut.
How is infection with viruses occurring?
Malicious programs can get to your computer in a variety of ways..
It can be a visit to an infected Internet resource or the installation of unlicensed software or games that can implicitly infect the system while the program is being installed. Also, viruses can spread through removable media, flash drives or external HDDs. Infected removable drives may transmit a virus to your computer while you are connected.
The most common virus programs are: viruses with abbreviations Troj and Trojan, W32, VBS, Mal, Worm, and others.
How to avoid being infected?
Since virus programs can wait for the user almost anywhere, a comprehensive approach should be used to prevent infection:
Use of checked antivirus software, it's regular updating, and system checks.
Timely OS update (system update also includes points to fix vulnerabilities).
Use of antivirus for Internet browsers.
Refusing to visit advertising and dubious resources, as well as download files, videos, games, and programs from untested sources.
It should be understood that even if you strictly adhere to these points, infection of the computer may still occur. It is because the creators of viruses are constantly modifying them, and the antivirus software just can' t keep up with the constantly changing types of viruses.
What happens when you are infected with viruses?
Depending on the type and purpose of the virus software, it may have different effects on the system.
For example, some viruses carry out spy activities on your computer, steal personal information, electronic keys, bank card codes, and data for logging into accounts of social networks, websites, etc. Other viruses pose a threat to files by simply removing or changing them to meaningless shortcuts.
If you come across a virus that deletes information, do not despair! Specialists of Recovery Software have developed a special utility RS Partition Recovery, capable of quickly recovering any data destroyed by a virus, random drive formatting, or just deleted. RS Partition Recovery allows you to recover deleted data from hard drives, flash drives, and other drives. Besides, the functionality of the program allows you to recover long lost data.
How to get rid of viruses on your flash drive?
If the user has found the virus on a flash drive or removable drive using an antivirus software, the infected files should be quarantined. If the virus program is not removed by the antivirus or bypasses its protection, you should resort to manual removal using the built-in diskpart utility.
To do this:
Step 1: Run the Diskpart utility. To do it, right-click on the "Start" button and select "Run". In the window that opens, enter "diskpart" and "OK"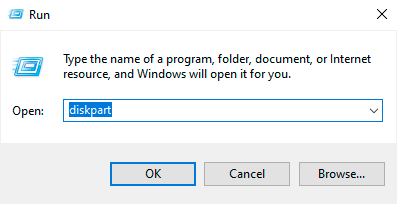 Step 2: Enter the command "list disk" and look for an infected drive. In our case, it is a flash drive marked with the number 1. Next, enter the command "select disk 1".


Step 3: Clean the disk using the "Clean" command and wait for the cleaning process to be completed.

Step 4: Next, you need to create a partition on the cleaned flash drive. To do this, enter crate partition primary, confirm the action by pressing "Enter" key. Then select the created partition with the command select partition 1.

Step 5: Now you need to format the selected partition in NTFS or FAT 32 format. In our case the flash drive will be formatted in NTFS format with the command format "fs=ntfs quick". To format in FAT 32 we use the command format "fs=fat32 quick".

Step 6: The final step is the assignment of the disk letter. To do this, enter the command "assign letter=Z".

The flash drive is completely cleaned. To finish Diskpart work, enter the exit command or just close the utility window.
You can also check your flash drive with the following commands:
Open the command prompt as admin and enter the command E: (where E is the name of the flash drive) and press "Enter", then type the "attrib e:*.* /d /s -h -r -s" and Enter again.

Each of the letters of the last command reveals all hidden files, removes the "Read Only" mode, and displays system files. In this way, you can go to the flash drive and remove the virus software, which was hidden by the flash drive settings.
How to get rid of a virus on your system hard drive?
Viruses that get on the system hard drive are a significant threat to files and data. The best way out of this situation is to full reinstall the operating system or rollback Windows using recovery points.
You can also perform deep scanning with antivirus programs.
More experienced users can use the built-in system scan tools.
The full list of items for complex removal of advertising and common viruses can be found in the "How to remove a virus that shows ads in your browser".
How to remove the virus from Windows Startup
Many viruses and malicious programs can be embedded into the system startup. It causes the virus software executables to start right away as the system boots up.
Automatic launch of malicious utilities makes their detection and removal much more difficult.
A detailed method of detecting and removing viruses from Startup applications and Windows services autorun is described in the article «Cleaning Windows Autorun».
Frequently Asked Questions