Looking for a quick, easy way to recover lost photos? Some moments are not meant to repeat, and can be only captured on a photo. Weddings, travel, vacations. Your baby's first smile and first steps. Everything is kept in digital these days. But hard drives and flash memory may fail any moment. Restore lost pictures with RS Photo Recovery!
RS Photo Recovery 6.7
Recover deleted pictures and photos stored on corrupted, unreadable and formatted disks memory cards! RS Photo Recovery makes photo recovery easy for everyone, putting professional-grade file recovery and image reconstruction algorithms into a simple shell. Its step-by-step wizard guides you through the entire process, making the recovery simple.
Download
Registration
Screenshots
Thumbnail Navigation and Instant Preview
Recovering deleted photos would be impossible without a fully visual preview, and RS Photo Recovery delivers. You can navigate through lost and deleted pictures as if they were located in your normal photo album. RS Photo Recovery displays large thumbnails to let you immediately see images that are still recoverable, and offers an instant full-size preview for selected pictures.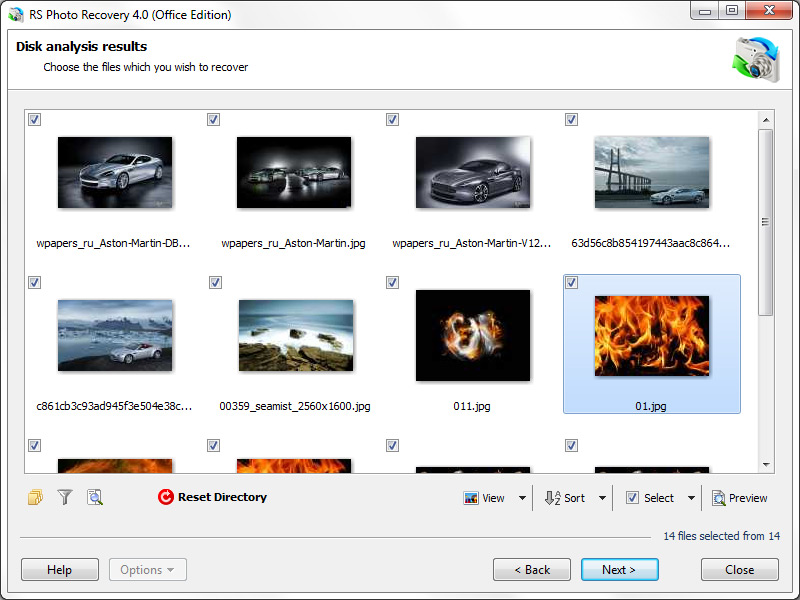 Recover Deleted Photos from Crashed Memory Cards and Formatted Disks
RS Photo Recovery can recover pretty much every picture, no matter if it's simply deleted from the Recycle Bin or located on a crashed and formatted memory card. Featuring sophisticated deep scan algorithm, RS Photo Recovery carefully reads the entire content of a disk or memory card in order to locate characteristic signatures typical for supported image types. When a signature of a digital picture is detected, RS Photo Recovery will automatically analyze the header to derive the exact location and length of the picture. Deep scan offers surefooted recovery where other tools fail.
Recover Pictures in Popular Formats
Got a bunch of pictures lost or deleted? RS Photo Recovery can undelete deleted photos and recover lost images from formatted, unreadable and inaccessible media. The photo recovery utility supports pictures and RAW files in a wide range of photographic formats, including *.cr2, *.crw, *.jpeg, *.jpg, *.psd, *.cdr, *.bmp, *.raw, *.tiff, *.tif ,*.nef, *.pef, *.x3f etc.
Recover Deleted Photos from All Types of Storage Media
RS Photo Recovery can recover photos from all makes and models of hard drives, SSD drives and memory cards. Click here for the complete list of supported memory cards.
Recover Pictures Safer with Virtual Drive Images
RS Photo Recovery offers an extra safety option by allowing recovering deleted photos from virtual drive images instead of the real disk. By working with bit-precise snapshots of disks and memory cards instead of the real, physical drives, RS Photo Recovery makes the recovery safer and more error-proof.
Save Pictures to CD/DVD or Upload to FTP
The images you recover must be stored on a different drive letter. If you don't have a spare hard drive or lots of images to recover, you can upload the pictures to an FTP server or burn them onto a CD or DVD disc.
Features at a Glance
Recovers deleted photos and pictures removed from the Recycle Bin;
Pre-recovery preview quickly views images and documents;
Thumbnails of deleted pictures displayed for easier navigation;
Recovers photos from formatted and repartitioned disks;
Recovers pictures from corrupted or deleted FAT and NTFS partitions;
Recovers from physical drives and virtual drive images;
Can store photos on a different drive, burn to a CD/DVD, or upload them onto an FTP server.
Recoverable Pictures
RS Photo Recovery can recover deleted photos in most popular formats. Pre-recovery preview and advanced recovery mode powered by the deep scan algorithm are available for all supported images and RAW files:
Recovers digital pictures in all popular formats including *.cr2, *.crw, *.jpeg, *.jpg, *.psd, *.cdr, *.bmp, *.raw;
Full RAW Support
Recover deleted photos in RAW format just as easily as other images! RS Photo Recovery supports RAW files produced by Canon, Nikon, Olympus, Panasonic, Pentax, SONY, and many other cameras.
Supported Storage Media
RS Photo Recovery can recover photos from all types of fixed and removable storage media. The picture recovery tool has been successfully tested with the following devices:
Desktop and laptop hard drives of all makes and models;
SSD drives including those with TRIM support;
USB sticks and removable solid-state drives;
Memory cards including SD, SDHC, SDXC, Compact Flash, Memory Stick, xD, MMC, regardless of make and capacity;
Most digital compact cameras and media players connected via a USB cord.
File Systems
The picture recovery utility supports all Windows file systems including exFAT, FAT, NTFS, APFS, ReFS, XFS, UFS, ReiserFS and Ext2/3/4.
System Requirements
RS Photo Recovery supports all 32-bit versions of Windows, including Windows XP, 2003, Vista, 2008 Server, Windows 7-8 and Windows 10.