Don't know how to recover deleted digital photos? Looking for a way to recover digital images that were deleted after formatting the hard, external drive, memory card, or USB flash drive? If you deleted important photos, don't worry.
How to restore photos using RS Photo Recovery
RS Photo Recovery
You have a good chance of recovering the deleted images, as long as you did not save any more photos or videos to the same memory card. The thing is that when you delete a photo, in actuality the camera does not delete the file. It simply designates the area on the memory card where the images were stored as free space, which means the deleted photos can be recovered
Download
Registration
Screenshots
Choosing a drive for recovery
To get the photos back, you need a photo recovery program. You might need a card-reader if your camera does not appear as a drive when you launch the software. Attach the camera to the computer or insert the flash-card into the card-reader and launch RS Photo Recovery.
The first thing you have to do is select the camera, drive, or flash-card from which you want to recover your photos.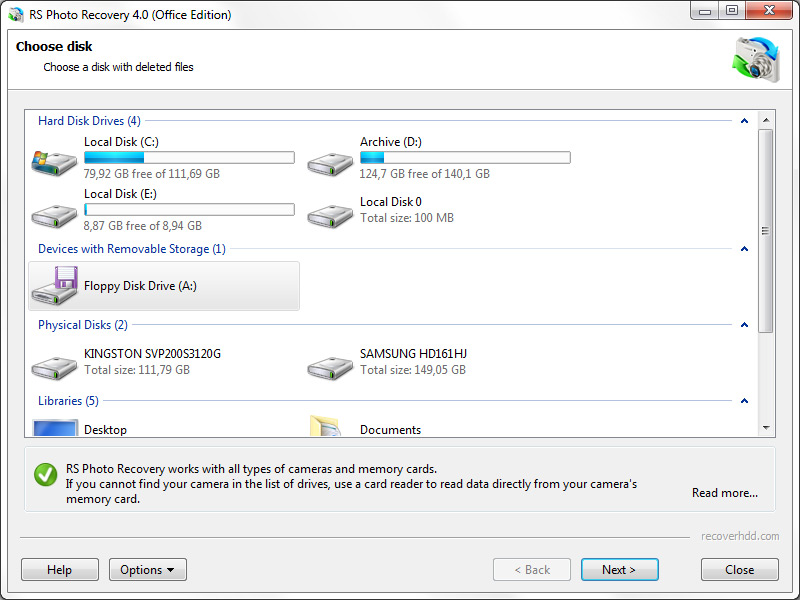 Now press "Next".
The program will begin scanning. Throughout the scanning process, the program window will show the photos that were found and that can be recovered.
Choosing an image for recovery
When the scanning is finished, you will see a list of photos that can be recovered. RS Photo Recovery has a very useful function built-in: viewing the contents of the deleted files. (This means you can see the actual image to be recovered rather than just its name, such as IMG_0238.JPG. And that really is useful, don't you think?) Everything you see can be recovered.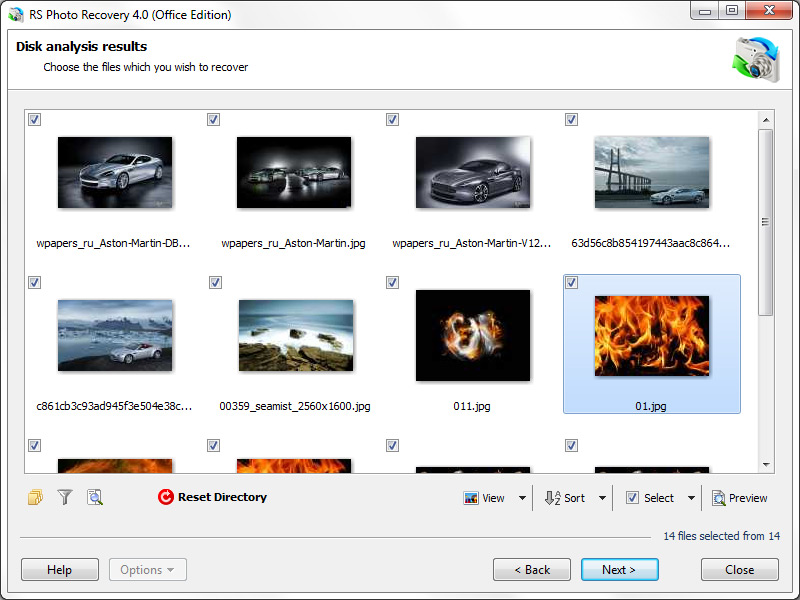 To speed up the search for the needed images, use the image sorting and filtering functions. You can filter images by type, mask, size and resolution. After applying the filter, the image list will display only the photos that satisfy the filter settings.
Once you find the deleted photos, press "Next".
Saving recovered files
In the next window choose a folder where the program will save the recovered images (it is strongly recommended to choose another drive for recovery; for example, if you are recovering data from drive C, then to save it choose a folder on drive D), and press "Next". The program will save the selected photos in the folder you specified.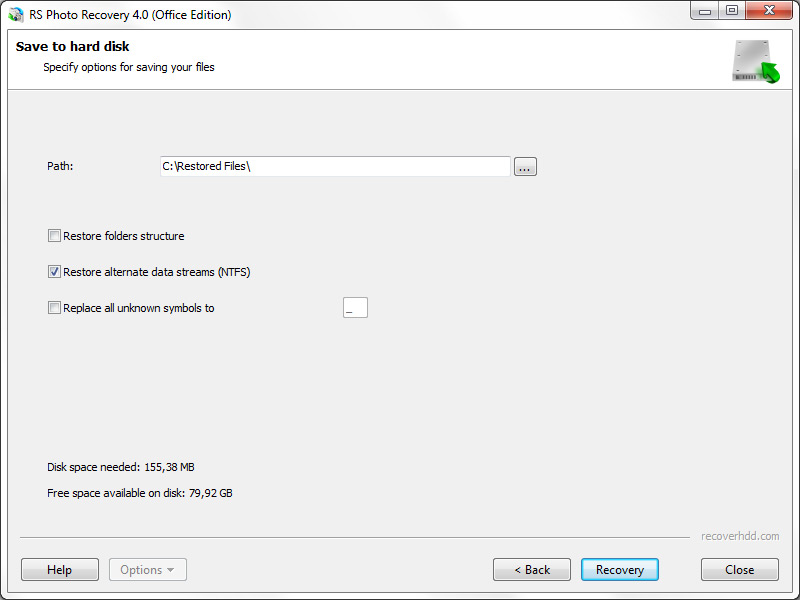 Note
: When choosing a location to save files, you can also recover the structure of the folders in which photos were stored.
Now the photos are recovered and you can copy them back to the memory card or view them on your monitor again.