Deleted a bunch of files from the hard disk or lost information after a memory card failure? Want your documents, compressed archives or digital pictures back? Looking for a tool to recover files from a repartitioned disk? Formatted a hard drive or memory card and forgot and want your files back?
RS File Recovery 6.9
No worries, your files are not gone forever. Chances are that your files are sitting safely exactly where they used to be. You simply need a way to get them back. With modern file recovery utilities you can even recover everything from a crashed hard drive that's been repartitioned and formatted afterwards, let alone simple cases such as formatted memory cards or deleting a bunch of files from the Recycle Bin.
Download
Registration
Screenshots
Advanced File Recovery Utility
RS File Recovery features a highly sophisticated file recovery algorithm combined with a thoroughly thought through user interface. Its step-by-step wizard offers an easy way to quickly recover deleted files and folders, while the available Explorer-like UI offers a great deal of flexibility to the more experienced user. The available deep scan mode finds documents, email, databases, pictures, music and video files even on formatted, repartitioned or inaccessible drives.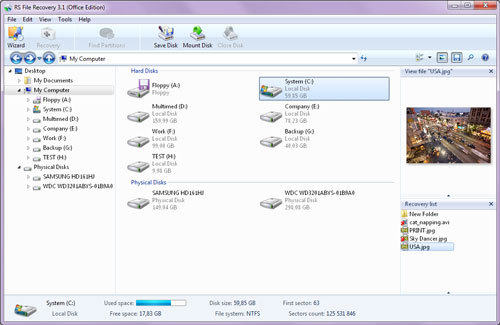 Deep Scan Mode
The proprietary deep scan algorithm locates and recovers supported files on badly damaged disks, memory cards, and other media. It works by reading and analyzing the entire content of the disk, comparing information being read against known signatures characteristic to certain types of files. If a known signature (e.g. the "JFIF" header for a JPEG file, or "PK" for a ZIP archive) is detected, the file recovery utility analyzes the file header to obtain the exact location and length of the file.
The deep scan mode works slow but extremely reliably. Use it when everything else fails, and you won't be disappointed.
Pre-Recovery Preview
The available pre-recovery preview instantly shows you the content of pictures and documents that are to be recovered. By using the preview, you can quickly determine if the file is undamaged and still worth recovering.
Recover Files from All Types of Media
The file recovery utility has been tested with dozens of hard drives made by different manufacturers. We tried a variety of SSD disks, USB drives, and pretty much every type of supported memory cards.
Safer Recovery with Virtual Drive Images
The file recovery utility can make a bit-precise snapshot of a disk containing the lost or deleted files, and save that snapshot into a file called "virtual drive image". By working with a virtual drive image instead of the real, physical device, you can protect yourself from mistakes and obtain better quality results safer.
This feature is especially useful in difficult cases and when recovering data from flash drives and memory cards.
Store Recoverable Files on a Disk, Burn to CD/DVD or Upload to FTP
You can store the files being recovered onto another disk, upload them to a network location over an FTP protocol, or burn a CD or DVD containing your files.
Features at a Glance
Recovers deleted files and folders;
Recovers information cleared off the Recycle Bin or deleted with "Shift"+"Del";
Restores information from formatted and repartitioned disks;
Recovers files from corrupted or deleted FAT and NTFS partitions;
Recovers from physical drives and virtual drive images;
Pre-recovery preview quickly views images and documents;
Can store recoverable files to another drive letter, burn to a CD/DVD, or upload them onto an FTP server.
Supported Storage Media
RS File Recovery supports all types of fixed and removable storage media. The file recovery tool has been successfully tested with the following devices:
Desktop and laptop hard drives of all makes and models;
SSD drives including those with TRIM support;
USB sticks and removable solid-state drives;
Memory cards including SD, SDHC, SDXC, Compact Flash, Memory Stick, xD, MMC, regardless of make and capacity;
Most digital compact cameras and media players connected via a USB cord.
Recoverable Files
RS File Recovery can recover all types of files and folders, including compressed and encrypted. In addition, advanced recovery mode powered by the deep scan algorithm are available for certain types of files:
Recovers Microsoft Office documents: Word (*.doc, .docx, *.rtf etc.), Excel(*.xls, .xlsx etc.), PowerPoint (*.ppt);
Recovers Adobe Reader(*.pdf), databases and email databases (*.pst *.dbf, *.mdb, *.1cd, *.mdf);
Recovers digital pictures in all popular formats including *.cr2, *.crw, *.jpeg, *.jpg, *.psd, *.cdr, *.bmp, *.raw;
Recovers audio and video files (*.avi, *.dat, *.mkv, *.mov, *.mpg, *.vob, *.wmv, *.m4p, *.mp3, *.wav, *.wma, etc.;
File Systems
The file recovery utility supports all Windows file systems including exFAT, FAT, NTFS, APFS, ReFS, XFS, UFS, ReiserFS and Ext2/3/4;
System Requirements
RS File Recovery supports all 32-bit versions of Windows, including Windows XP, 2003, Vista, 2008 Server, Windows 7-8 and Windows 10.