RS File Repair is a program that will help you repair file structure that was corrupted by a virus attack or equipment malfunction, recover corrupted files that do not open or open with an error message, and eliminate the consequences of unsuccessful attempts to recover deleted data.
RS File Repair 1.1
Will help you see how easy and convenient it is to work with the software even before you use the program. Download and install RS File Repair to begin recovering corrupted data.
Download
Registration
If you decided to recover corrupted files without using a wizard, then after installing the software, in the left part of the main window select the folder containing the files you need. Select the necessary files in the list that appears in the right part of the window, and use the "Analyze" or "Research" functions using the quick menu buttons or the appropriate options in the "File" menu.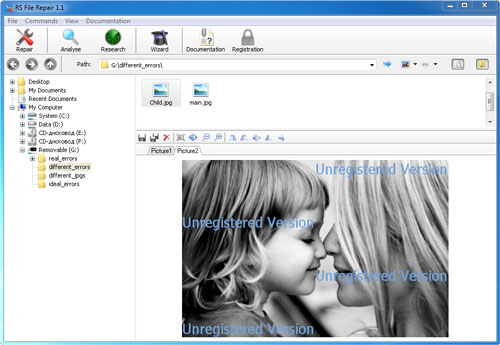 After this, the files that could not be viewed due to corrupted logical structure will be available for display in the preview window. You can finish the recovery process and save the recovered data to the carrier of your choice after registering the program!
If you find it more comfortable to recover files in fully automatic mode, use the recovery wizard, which allows the recovery process to be completed in just a few, simple steps.
In the "Welcome" window you can activate the option "Display wizard when launching the program" so that from now on you will always begin working with the program in the mode of step-by-step file structure recovery.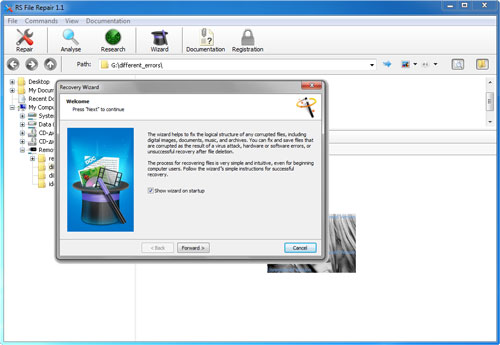 In the next window, "Select files", you can create a list of files to be recovered, and also use the appropriate buttons to add files from different folders to the list, delete files, or clear the list completely. In addition, you can select the list display that is most comfortable for you ("Symbols", "List", or "Table") and sort the files in the list.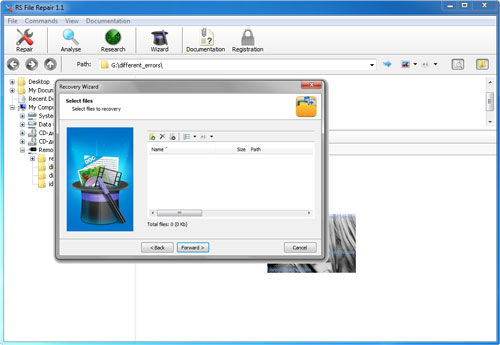 In the "Analysis type" window, choose the most appropriate type of file processing for recovering file structure in your case. The wizard describes the particular features of each of them.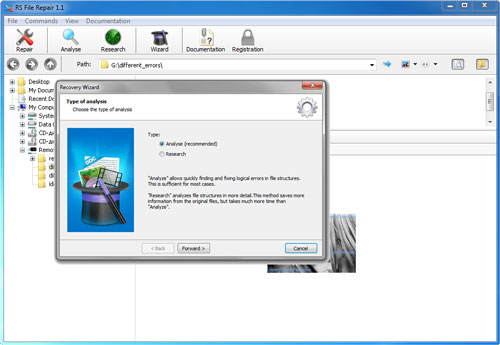 In the next window, select the path for saving repaired files and put checkmarks by the options you need. After saving, the folder with the recovered files will appear on the carrier and folder you selected.