Lost hours of work in Excel or OpenOffice? Deleted a bunch of spreadsheets? Formatted the disk by accident and want your Excel files back? RS Excel Recovery will help you recover spreadsheets in some of the most popular formats including Excel XLS/XLSX and OpenOffice ODS in a matter of minutes!
Recover Deleted Spreadsheets with
RS Excel Recovery 4.5
You can either undelete spreadsheets in a matter of minutes or perform a comprehensive analysis of the entire disk area, locating every last spreadsheet ever saved there. Even if the disk has been formatted or repartitioned, or if it cannot be accessed by Windows, you can still use RS Excel Recovery to analyze the disk and extract those spreadsheets.
Download
Registration
Advanced Recovery Methods
RS Excel Recovery borrows its data recovery algorithms from the company's top of the line partition recovery tool. This enables RS Excel Recovery to handle the toughest cases with ease. Content-aware analysis allows recovering spreadsheets located on formatted volumes, repartitioned disks and deleted partitions. The very sale algorithm is employed to analyze disks, pen drives and memory cards with corrupted file systems, allowing to recover spreadsheets from damaged and unreadable devices.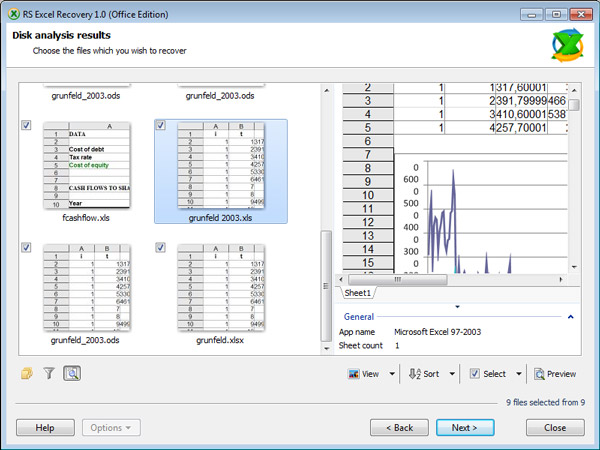 Recovers Microsoft Excel and OpenOffice Spreadsheets
RS Excel Recovery supports XLS and XLSX formats produced by all versions of Microsoft Excel, as well as ODS files saved by OpenOffice With RS Excel Recovery you'll only need one tool to recover spreadsheets produced by the two popular office suites.
Successful Recovery Guarantee
With many other tools, you will get hundreds or thousands of files listed in the recovery view. Trying to recover one or more files, you'll quickly find out that only select few are actually recoverable. This won't happen when you use RS Excel Recovery! Our tool performs an automated pre-recovery integrity check on all documents it's located. If a spreadsheet is corrupted or incomplete, it fails to pass the integrity check and doesn't make it into the list of recoverable files. As a result, you'll be getting a nice clean, uncluttered view of documents that are 100% guaranteed recoverable.
Easy to Learn and to Use
We designed RS Excel Recovery to be used by everyone. You don't have to hold a degree in computer science to use our tools. RS Excel Recovery comes equipped with a fully guided step-by-step wizard allowing you solving the most complex tasks one little step after another. But don't be confused by this seeming simplicity. Under the hood, RS Excel Recovery packs some of the most advanced mechanics available on the data recovery market. Its highly sophisticated data recovery engine is fully capable of handling the most complex assignments, successfully recovering documents where every other tool fails.
Recovers Spreadsheets from Formatted, Corrupted and Inaccessible Drives
With content-aware analysis, RS Excel Recovery can take on cases of any complexity. Formatted disks or deleted partitions? Corrupted memory card or inaccessible USB pen drive? No problem! RS Excel Recovery will perform a thorough analysis of the entire content of the device, enabling surefooted recovery even if there is no file system to speak of.
Handling Unstable Hardware, Faulty and Worn-Out Hard Drives
If you have a dying hard drives, using a regular data recovery tool may cause premature failure because of the high number of random access operations. RS Excel Recovery protects you against this outcome by including a special mode designed specifically for physically unstable devices. In this special mode, RS Excel Recovery will read the entire content of the device in one long operation, saving the content as a disk image file onto a separate healthy device. After capturing this virtual disk image, RS Excel Recovery can continue working with the image file. The original physical device is no longer required.
Pre-Recovery Preview
RS Excel Recovery offers full-size spreadsheet preview with a built-in viewer. The integrated viewer allows previewing recoverable documents before they are undeleted. The viewer does not rely on Microsoft Office or OpenOffice, so you can use it even if no Office suite is installed.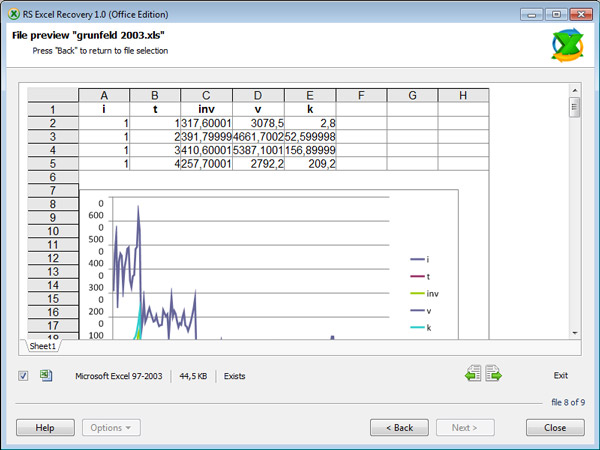 Supports All Storage Devices and Many File Systems
RS Excel Recovery can successfully recover spreadsheets from magnetic and solid-state storage devices such as hard disks, SSD drives, USB pen drives, memory cards and other flash-based media. We tested RS Excel Recovery with hundreds of devices to ensure top notch compatibility.
Supporting all versions and revisions of FAT and NTFS including the latest exFAT and NTFS 5, RS Excel Recovery can deal with both file systems supported by any version of Windows. In addition, RS Excel Recovery can recover spreadsheets from disks with damaged, missing, deleted or emptied file systems, unpartitioned disks space or devices that have been repartitioned and formatted.
Features at a Glance
Recovers documents in Microsoft Excel and OpenOffice formats (XLS, XLSX, ODS and certain other types);
Recovers encrypted and compressed spreadsheets;
Recovers spreadsheets compressed with NTFS on-the-fly compression;
Recovers spreadsheets from formatted FAT and NTFS volumes, repartitioned hard drives and unpartitioned disk space;
Recovers spreadsheets from corrupted and inaccessible media;
Recovers spreadsheets from magnetic hard disks, SSD drives, USB pen drives, memory cards and other types of storage media;
Supports most major file systems including exFAT / FAT / NTFS / APFS / ReFS / XFS / UFS / ReiserFS / Ext2/3/4;
Supports 32-bit and 64-bit versions of Microsoft Windows XP, Vista, 2003 and 2008 Server, Windows 7-8 and Windows 10.