Deleted an important document or lost access to a corrupted NTFS drive? Accidentally formatted or repartitioned the disk? Looking for a tool to fix NTFS volumes? Look no further! RS NTFS Recovery can reliably undelete files and recover data from all types of NTFS partitions, restoring the complete file and folder structure from formatted, repartitioned, corrupted and inaccessible hard drives.
Recovering Data from NTFS Volumes and Undeleting Files with
RS NTFS Recovery 4.9
Reliably recover damaged NTFS volumes, restore files and folders from formatted and repartitioned hard drives or simply undelete deleted files with a single tool. RS NTFS Recovery deals with all sorts of issues with NTFS volumes, delivering reliable recovery under the most difficult circumstances.
Download
Registration
Designed for NTFS Volumes
RS NTFS Recovery is specifically designed to handle information stored on NTFS-formatted volumes. Supporting long file names, NTFS-compressed and encrypted files as well as alternative data streams, RS NTFS Recovery is one of the most advanced solutions for recovering data from NTFS partitions.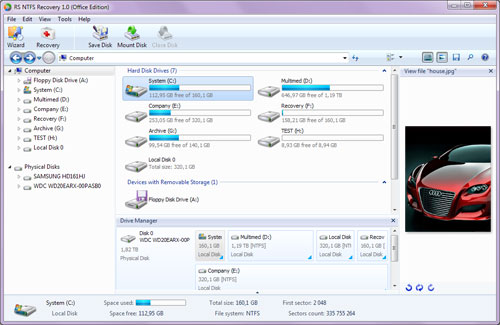 Quick and Easy Operation
RS NTFS Recovery is fast and easy, taking almost no time to learn. Its highly intuitive user interface makes using the most advanced data recovery mechanisms a matter of clicking a button. In Quick mode, RS NTFS Recovery can locate and undelete recently deleted files in a matter of minutes.
Complete Recovery
The very thorough Comprehensive Analysis mode offers the most comprehensive recovery for formatted, corrupted and inaccessible media. In this mode, RS NTFS Recovery scans the entire content of the disk looking for characteristic signatures of known file types, enabling surefooted recovery in the most difficult cases. RS NTFS Recovery can extract the original file and folder structures from the disk being recovered, re-creating the exact replica on a healthy media.
Instant Preview of Deleted Files
RS NTFS Recovery features an instant and fully visual pre-recovery preview. The preview allows viewing the content of deleted files in live mode. It can display pictures and documents complete with formatting and embedded objects, play back audio files and enter compressed archives. You don't even need to pay for the full version in order to preview the recoverable files. Better yet, the preview serves as a recovery guarantee: if you can successfully preview a file, you can recover it just as easily.
Content-Aware Analysis
Many types of files can be successfully recovered even if they are located on an inaccessible, badly damaged or formatted disk. RS NTFS Recovery features content-aware algorithm that analyze the complete surface of the disk in addition to scanning the file system. With content-aware analysis, RS NTFS Recovery locates the beginning and calculates the length of each file by discovering known structures such as file headers. By performing content-aware analysis, RS NTFS Recovery can deliver impressive recovery rates in the most difficult cases.
Supports All NTFS Revisions
RS NTFS Recovery supports huge volumes (up to 4 TB) formatted with all versions and revisions of NTFS, including NTFS 5. All 32-bit and 64-bit versions of Windows up to Windows 8 are supported.
Features at a Glance
Undeletes files and folders from NTFS volumes;
Recovers information from formatted NTFS partitions;
Recovers data from repartitioned disks;
Re-creates the complete file and folder structure of damaged disks on a safe media;
Content-aware analysis helps recover data from badly damaged volumes;
Repairs corrupted volumes and rebuilds badly damaged system structures from the scratch;
Supports all versions of NTFS including NTFS / NTFS 4 / NTFS5;
Supports Microsoft Windows XP, 2003, Vista, and 2008 Server, Windows 7-8 and Windows 10;