Your Mac keeps giving you errors, or the system just won't boot, and you've almost given up hope of saving any of your important documents? Need to recover files after "losing" a partition, remove files from a disk that is no longer recognized by the system? Use professional Mac recovery software! RS Mac Recovery is a simple and powerful tool that solves most data loss issues in two steps.
Data recovery software for macOS formatted disks and flash drives with APFS, HFS+ file structures
RS MAC Recovery 2.6
RS Mac Recovery will not only help you recover your most important files that have become inaccessible due to errors or system crashes, disappeared after careless deletion or formatting of disks. The tool will also come in handy in more complicated situations when you have to deal with severe disk corruption or recreate logical structures from scratch.
Download
Buy now
Recovering Mac files from a cleared Trash
Even if you are sure that you deleted files irretrievably: you used "Command + Delete" keys or emptied the Trash after deletion – do not rush to despair. RS Mac Recovery's powerful algorithms handle even such situations. The professional-grade tool recovers deleted files in just a few clicks. Try not to write anything to the disk after you discover that the documents you need have disappeared. Run the program and start scanning – you will find all the files available for recovery in the results window. Check to see if all the data you need is there before you buy the program. After you register it, you will be able to save your files in their original form.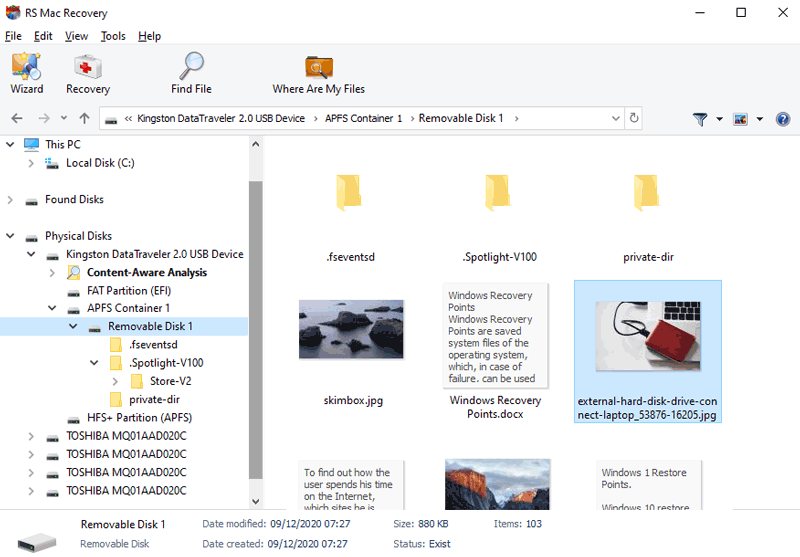 Extracting data from APFS/HFS+ formatted partitions
Data disappearing after formatting disks and re-partitioning may also seem like an insurmountable problem. However, it is still possible to recover the information, and almost to the fullest extent. Run a deep scan of the drive with RS Mac Recovery. Using signature-based search technology, the tool will piece together even severely damaged files, including after disk formatting and creating new logical volumes.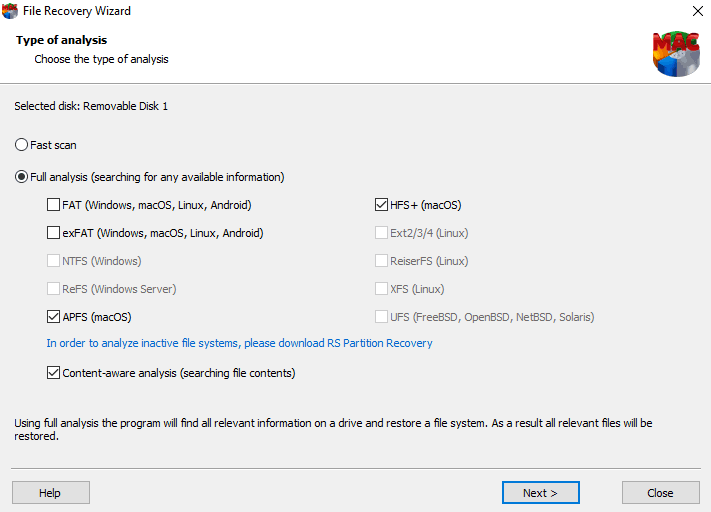 Recovering files from an erased Mac partition
One of the most common causes of data loss on a Mac is damage to one or more partitions. The causes of the problem range from file system malfunctions and irregularities in the partition table to the trivial deletion of the volume containing the data you need. In all cases, a Mac cannot detect the partition, which means that all data on it becomes inaccessible as well. RS Mac Recovery can also restore access to damaged partitions and inaccessible files. An in-depth system scan reveals deleted partitions with their original contents and restores their structure. And the main result of the program's work is the safe retrieval and preservation of your data.
Full support for recovering files on Mac
RS Mac Recovery software provides fast, secure data recovery from all Mac devices regardless of the brand and model of storage device, type and format of lost files, disappearance scenario, file system, and the version of macOS in which they were created. Just install the software on your Windows computer, connect to the troubled Mac device and run the scan. With a little patience, you'll have the data you need back at your hand. The software supports recovery from APFS, HFS, HFS+, FAT, exFAT disks.
Convenience and ease of recovery
The RS Mac Recovery graphical user interface is designed so that working with the tool is intuitive from the first steps. The recovery process will seem as simple as possible due to the unified design of the program. RS Mac Recovery prompts you to recover the scanned disk as a whole, select individual partitions or specific file types. Filters help you recover individual documents as quickly as possible. The results of the scan will be presented as a standard directory tree. If the desired data could not be found after a quick scan, you always have the option to proceed to an in-depth disk analysis.
Secure recovery from a disk image
If you fear that a problem disk may permanently fail during the recovery process, use the Disk Image feature. It is the perfect mechanism for safely recovering data from failure-prone drives and disks that may suddenly fail. Once the virtual disk image has been created, the program, while recovering the structures and files, will no longer refer to the drive itself, but to its exact copy – the image.
Program Features:
Detecting lost data after formatting or deleting a logical partition APFS, HFS, HFS+, FAT, exFAT;
Recovering files after clearing Mac Trash and reformatting disk;
Recovering from flash drives, portable USB-C hard drives, etc;
Repairing damaged partitions and reconstructing logical disk structures;
Data recovery from images and disks of virtual machine formats: *.dsk, *.hdd, *.vdi, *.vhd, *.vhdx, *.vmdk;
Two flexible scanning modes;
Recovering all file types, including Microsoft Office documents, databases, digital images, video, photos and audio files;
Possibility to postpone recovery to a later date, continuing to work with the disk after creating its virtual image;
Advanced manual mode offers a fully semi-automatic or manual recovery mode;