Lost access to a memory card or USB flash drive? Formatted a FAT/FAT32 volume by accident? Deleted a bunch of photos from an SD or Compact Flash card? RS FAT Recovery can recover the entire content of a formatted memory card, USB flash drive or the hard disk if it is (or was) formatted with FAT or FAT32. Advanced recovery algorithms allow complete data restoration from formatted, repartitioned, corrupted and inaccessible media.
Recovering Data from Flash Cards and FAT/FAT32 Volumes with
RS FAT Recovery 4.9
Reliably recover information from corrupted FAT/FAT32 partitions and restore the complete file and folder structures from formatted media in few easy steps. RS FAT Recovery is an all-in-one data recovery solution for dealing with all types of issues with FAT and FAT32 media.
Download
Registration
Recovers Memory Cards and USB Flash Drives
An absolute majority of USB flash drives and memory cards used in portable devices such as digital cameras, smartphones, audio players and e-book readers are formatted with FAT. Some hard drives used in older versions of Windows also carry either FAT or FAT32 depending on their size. RS FAT Recovery is specifically designed to handle data corruption issues of FAT-formatted media, making it easy to recover information from formatted, repartitioned, corrupted and even unreadable media.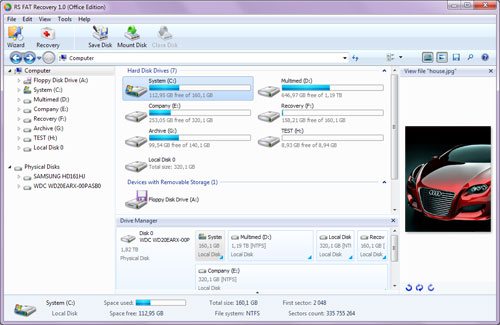 Quick and Easy Operation
RS FAT Recovery is made to be easy. Its user interface is fully guided. The intuitive pre-recovery preview displays content of recoverable files in fully visual mode. Finally, the Quick Recovery mode makes undeleting recently deleted files a matter of minutes.
Comprehensive Analysis
In comprehensive analysis mode, RS FAT Recovery can recover files from media suffering from major issues. In this mode, RS FAT Recovery can extract files and folders from formatted memory cards, empty or unreadable volumes by analyzing the entire content of the device in order to locate files that are still there.
Visual Pre-Recovery Preview
You can easily preview files stored on corrupted media before recovering them. RS FAT Recovery comes equipped with fully visual, instant preview that can display content of hundreds of file types including office documents, pictures, compressed archives, emails, music and video files in all popular formats.
Content-Aware Analysis
Content-aware recovery algorithms make RS FAT Recovery stand out. Content-aware analysis uses the knowledge about file formats and their characteristic signatures in order to detect these files on badly damaged media. Even if there is no file system on the disk, RS FAT Recovery can still detect, locate and extract many types of files including pictures, documents, archives, videos, emails, and dozens of other file types. Thanks to content-aware analysis algorithms, RS FAT Recovery delivers impressive recovery results under the most difficult circumstances.
Supports FAT and FAT32
RS FAT Recovery supports all versions of FAT, VFAT and FAT32 in all 32-bit and 64-bit versions of Windows up to Windows 8.
Features at a Glance
Undeletes files and folders from all types of memory cards, USB flash drives and other FAT/FAT32 volumes;
Recovers information from formatted FAT/FAT32 media;
Recovers data from repartitioned disks;
Re-creates the complete file and folder structure in another location;
Content-aware analysis helps recover data from badly damaged media;
Supports all versions of FAT including exFAT, FAT16, VFAT and FAT32;
Supports Microsoft Windows XP, 2003, Vista, 2008 Server, Windows 7-8 and Windows 10.